How To Make Traditional Sicilian Caponata (Caponata di Melanzane) – This veggie-loaded dish is perfect to share and it's naturally gluten-free and vegan.
---
Sicilian Caponata is a delicious warm salad or relish made with simple ingredients such as aubergine, celery and tomatoes, simmered in a distinctive sweet & sour sauce.
Caponata di Melanzane is a staple of Sicilian cuisine, and every city and possibly family in Sicily have their own version.
The original recipe includes deep-fried aubergine, celery, fresh tomatoes, green or black olives, capers and pine nuts.
Some popular additions include tomato sauce or paste, bell pepper, sultanas or chopped almonds.
**This post is sponsored by Mazola. All opinions are my own as usual.**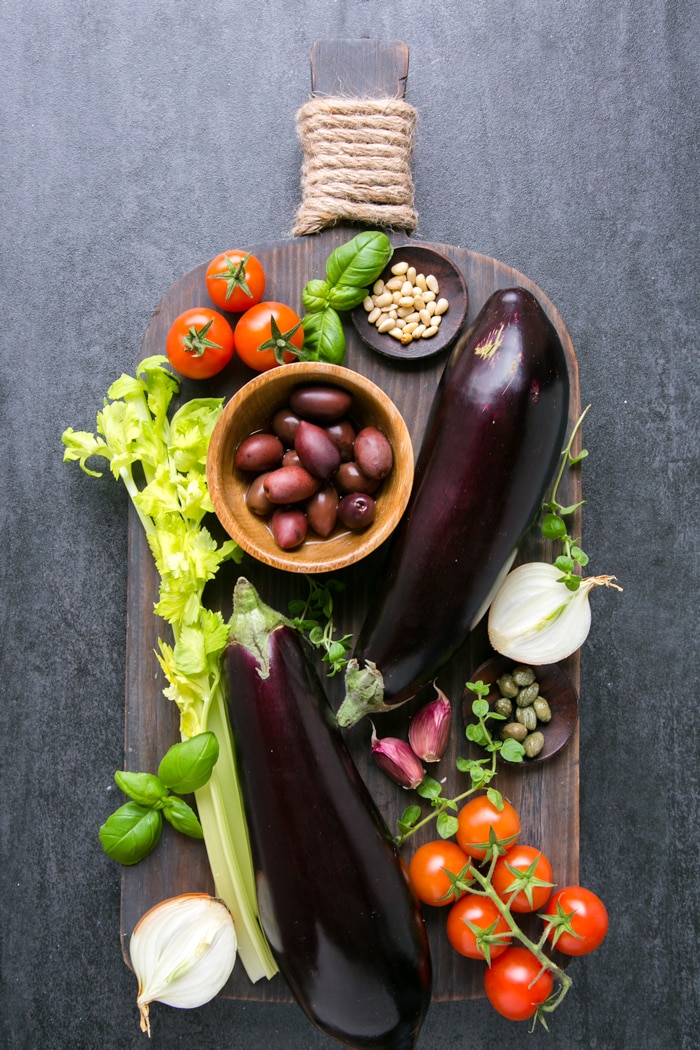 I grew up with my mum's incredible caponata, so that's the one I'm sharing with you today.
She's originally from Palermo and sticks to the original recipe, but makes it lighter by roasting the aubergine instead of frying.
The main ingredients of the classic Caponata, aubergine and celery, are cooked separately to preserve their texture and flavour.
Then, they are mixed together with the rest of the ingredients at the very end of the recipe.
It may sound a bit laborious, but this dish all comes together in less than 1 hour, and requires very little cooking skills.
Plus, it's naturally dairy-free, gluten-free, and vegan, making a fantastic allergy-friendly option to serve at dinner parties and get-togethers.
How To Make Sicilian Caponata (Caponata di Melanzane)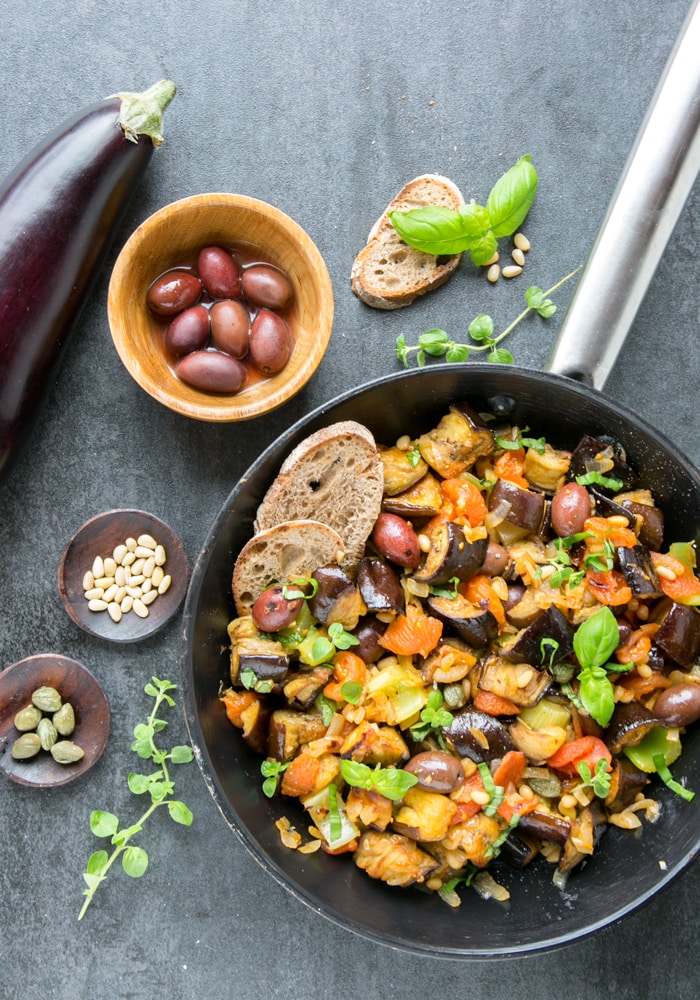 To make your Caponata, start by blanching the celery.
Throw the chopped celery in a pot of boiling water and take it out after a minute or two.
I like celery on the crisper side, so I'd leave mine not more than one minute.
After a quick bath in ice-cold water, I'll let it dry over a sieve covered with a kitchen cloth.
This process keeps the celery crunchy and retains its vibrant green colour.
Next step is cooking up your main ingredient, the aubergine.
The traditional Sicilian recipe calls for deep-fried aubergine cubes, but I've swapped it in favour of healthier oven-roasted crispy aubergine.
Note: if you want to make the classic caponata, simply deep-fry the aubergine cubes for 4-5 minutes, until lightly browned and cooked through.
Once ready, transfer them onto a plate covered with kitchen paper, to absorb the oil in excess, and proceed with the recipe.
Speaking of baking instead of frying your aubergine, I'm delighted to partnering up with Mazola to lighten up this…