If you're looking for a simple, easy-to-follow creamy tuna pasta bake recipe, this is the one! Absolutely easy, cheesy and loaded with veggies!
This easy creamy tuna pasta bake is a timeless dish that never seems to fall out of favour.
Pasta bakes are super easy and quick to make, a lifesaver when you need to cook something simple and tasty on a weeknight.
This one features tuna, sweetcorn and frozen peas, smothered in tasty cheesy white sauce. An easy tuna pasta bake everyone will love.
It's totally family-friendly (picky eaters anyone?), super creamy and so easy to put together.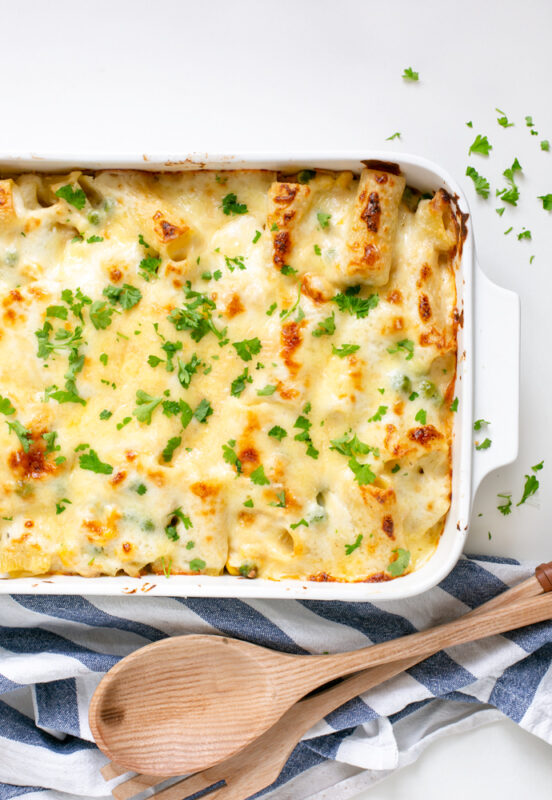 It's also one of those fantastic dishes that are great for freezing. I personally prefer to bulk cook on the weekend, freeze into portions, and enjoy the rest of the week.
Whenever I need a quick comforting meal, I just get this pasta bake out of the freezer and BAM, dinner is ready in a blink.
This classic pasta recipe is very simple to make and will leave you feeling full and satisfied, whilst providing you with a wide range of nutrients – all the good reasons to give it a try!
Simple ingredients are the key
There are only a few ingredients you need to make this comforting pasta bake, so I totally recommend choosing the best ones you can find.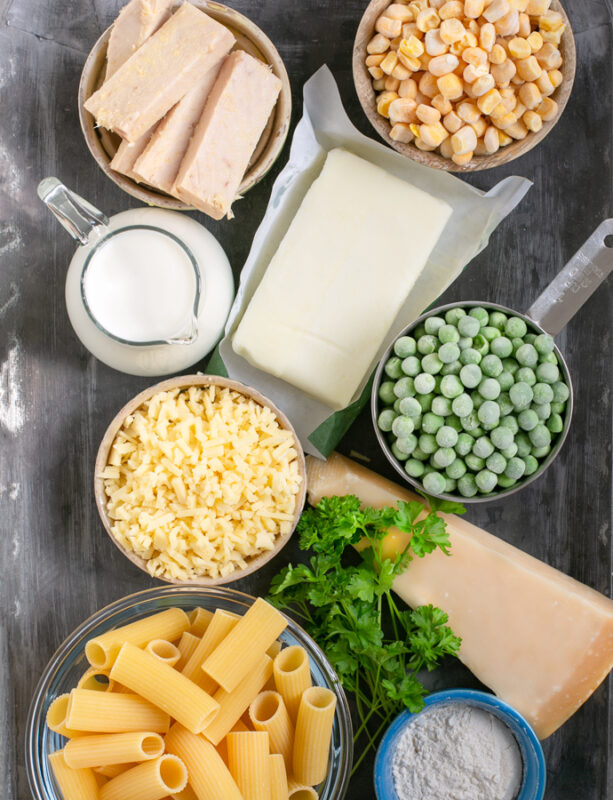 I like to use tuna fillets sold in jars, but canned tuna will work just as well.
One thing to note is that canned tuna in (good) extra-virgin olive oil has so much more flavour than tuna in spring water.
When it comes to sweetcorn, I prefer to use the frozen variety over canned sweetcorn.
I personally find frozen sweetcorn fresher, and ultimately, I feel it has a better, crunchier texture too.
Same goes to the peas, I recommend frozen peas all the way. they're handy, sweet and flavorful, and my freezer is never out of them.
Secret Ingredient
To make my tuna pasta bake extra creamy and full of flavour, my secret ingredient is Parmigiano Reggiano (parmesan cheese), which I mix to cheddar cheese and add to the white sauce.
The main reason for the addition of parmesan is that it has a unique umami flavour that takes this classic dish seriously to the next level. Give it a try and let me know!
Extra veggies and spices
This fish pasta bake is also very versatile, so feel free to add extra veggies if you want, these are some great options:
Baby spinach
Broccoli
Green beans
Roasted sweet potato cubes
Roasted bell peppers
You can also add some extra spices if you like, such as mustard powder, to give an extra kick of flavour to your pasta.
Recipe and…