Can you believe it takes only 10 minutes to make a British royal dish? The Original Coronation Chicken is super easy to prepare, and makes a great condiment for anything from sandwiches, salads, baked potatoes or simply toasted bread!
The recipe for the original Coronation Chicken couldn't be easier, requiring just 10 minutes to make and a few simple ingredients, and it all comes together in a couple of simple easy-to-follow steps.
Coronation Chicken: A Royal Dish 
The original Coronation chicken was invented by writer Constance Spry and the founder of the famous Le Cordon Bleu cookery school Rosemary Hume, while preparing the food for the banquet of the coronation of Queen Elizabeth II in 1953.
The original dish is basically cooked chicken meat with a simple curried mayonnaise dressing, and it's quite funny that such a simple recipe made its way into Buckingham Palace. You might find it surprising, but the original recipe calls for curry powder, because fresh curry spices were almost impossible to find in post-war Britain. 
Nowadays you can easily find Coronation Chicken everywhere in UK, from supermarkets, deli shops to sandwich bars.
Unfortunately, over the years this recipe has lost a bit of its charm, with so many ingredients and variations added, it looks now a really vague reinterpretation of the royal dish.
Most Coronation Chicken versions out there include ingredients that have nothing to do with the original version, such as sultanas.
The original Coronation Chicken recipe doesn't contain a single sultana, only dried apricots (that can be chopped or pureed), and the dressing includes a balanced mix of mayonnaise and whipped cream.
Ingredients For The Original Coronation Chicken
The Coronation Chicken recipe I'm sharing today follows very precisely the original recipe, and it couldn't be easier to make.
All you need is just a few simple ingredients: cooked chicken, dried apricots, mayonnaise, crème fraîche, olive oil, curry powder, white onion (or shallot), red wine, bay leaf, lemon juice, a pinch of sugar and of course, salt & pepper.
The only minor change I made to the original recipe it's swapping the whipped cream with light crème fraîche for a lighter result. But you can totally follow the traditional route if you want, and use fresh unsweetened whipped cream. And if you want to lighten things up a little bit more, swap the cream with Greek yogurt.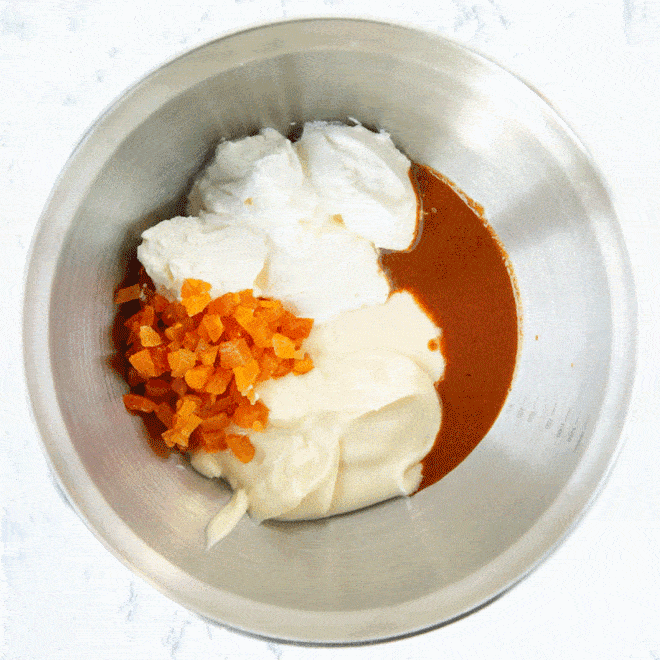 The dressing for your Coronation Chicken comes together in as little as…