On March 11, 2019, Federal Reserve Chair Jerome Powell indicated there will be no further rate hikes in 2019, even though he suggested that two were likely this year as recently as December 2018.
On the one hand, his backpedaling is welcome news for risk assets. Stocks have performed well year to date and real estate buyers are coming back into the market thanks to cheaper mortgage rates, lower property prices, and higher inventory.
On the other hand, declining fixed income yields is a sign of slowing growth. The Federal Reserve does not see the economy as strong enough to withstand higher interest rates.
It's hard to accurately predict the future. The bond market is telling us one thing and the stock market is telling us another.
But when you've got a bird in the hand, don't let go. Every homeowner should at the very least refinance their mortgage now and boost cash flow.
Refinance Your Mortgage As The Yield Curve Inverts
The 10-year bond yield is now at ~2.45%, a one-year low. As recently as November 2018, the 10-year bond yield was at 3.2%.
Given mortgage rates follow the 10-year bond yield up and down, mortgage rates are also back down to one-year lows.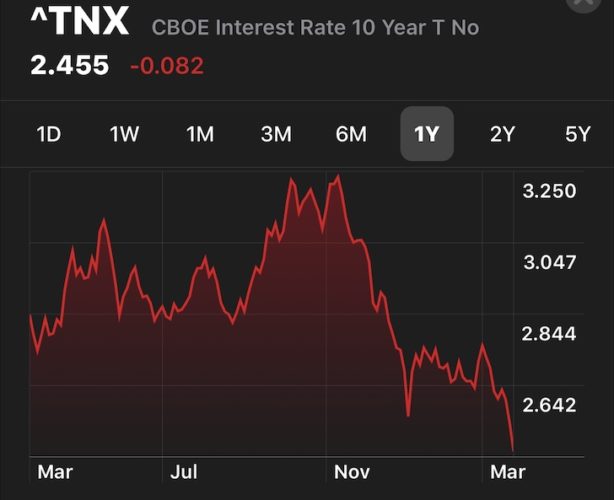 It doesn't matter if the bull market continues or a recession is on the horizon now that the yield curve is inverted. Refinancing now makes a lot of sense because saving money always makes sense.
Homeowners who are seeing their adjustable rate mortgages expire within one year or homeowners who bought when rates were much higher should especially consider refinancing.
A ~0.75% decline in mortgage rates since 4Q2018 is significant.
The Adjustable Rate Mortgage Survives Again
When I bought my current house in June 2014, the 10-year bond yield was at the same level as it is today. As a result, you'd think that my 5/1 ARM would see no adjustment.
Unfortunately, my 5/1 ARM is tied to the one-year London Interbank Overseas Rate (LIBOR) plus a 2.25% spread. Given short-term rates have gone up, so will my 5/1 ARM when it adjusts this summer.
If my 5/1 ARM had been tied to the 10-year bond yield, then my mortgage rate would have stayed the same.
Related: The Anatomy Of An Adjustable Rate Mortgage Increase
Instead of allowing my 5/1 ARM to reset to 4.5% from 2.5% this summer, I can simply refinance my 5/1 ARM to a new ARM at around 3%. While this rate is higher than my current…