It's not a secret that blogging really does take some time and effort. Naturally, every blogger wishes to grow their traffic as quickly as possible. They know that as soon as they have that traffic coming in, their blog can and will start making them money.
Luckily for us, there are a number of things that you can do to grow your blog traffic faster. Below, you will find a list of 30 blog writing tips that will help you make your blog bigger and better in no time. Enjoy!
P.S. Don't forget to download our FREE guide >>>7 SMART STRATEGIES TO GROW YOUR BLOG TRAFFIC FASTER!<<<
1. Keyword research
My first blog writing tip for you is about keyword research.
When I first started this blog, I had absolutely no idea what keyword research was. I also didn't understand just how important keywords are. So as you can probably guess, my first blog posts were quite random in terms of content. They had no keywords and the topics were taken off the top of my head.
Every blogger that has been in the business for a while understands that success in this field is determined by how well you rank in Google and other search engines. Before you make any money blogging, you must first grow your traffic.
In other words, the more people find you through Google, the more traffic you get and the more successful your blog becomes. But to be found on Google, you need to write about things that people actually want to read about. And the only way to find out what people are interested in is to do keyword research.
I won't go into the topic of how exactly to do keyword research here because of how complex it is. But you can find more information on it here.
2. Title must come first, not last
In school, I was taught that to make writing easier, you must first come up with a topic, then you do the writing, and finally, you create the title. In blogging, this rule does not work!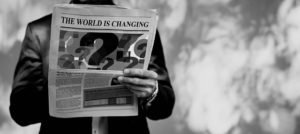 In the first blog writing tip, I said that to be found on Google, your blog posts need to be carefully researched and keywords should be used. Having a keyword in your title is an absolute must!
Look at the title of this blog post "30 Blog Writing Tips That Will Make Your Blog More Successful!". The keyword/key phrase here is blog writing tips. 
What this means is that I first researched what I am going to write about. I found that people are interested in blog writing tips. I then created a title around that key phrase. And now that I know my title, I know what my blog post is going to…