Individual Pear Crisps are a simple dessert with a yummy cinnamon oat filling perfect for kids to have their own! 
How to Make Individual Pear Crisps + Tips
Slice pears in half down the middle.  (This saves you time from slicing!) You won't need to peel the pears – pear skin is thin and can be eaten right along with the middle.  It just adds fiber and nutrients! Hollow out the core from the pears.  Mix oats, butter, brown sugar and cinnamon together. There is not enough butter to make it sticky, but it is sufficient for baking.    Pour the oat mixture into the cored pears.  Place pears in a baking dish and Bake at 350 for at least 25 minutes, or until fruit is tender.
Tips for Making Pear Crisp:
Make sure your pears are ripe.  If they are under-ripe they won't taste very sweet, and if they are overripe, they will turn out very mushy.
You can use pretty much any pear variety.  We have tried it with different varieties and they all turn out great.
Bake in ramekins!  This way you can serve your individual pears right in the dish you used to bake them in.
OUR LATEST VIDEOS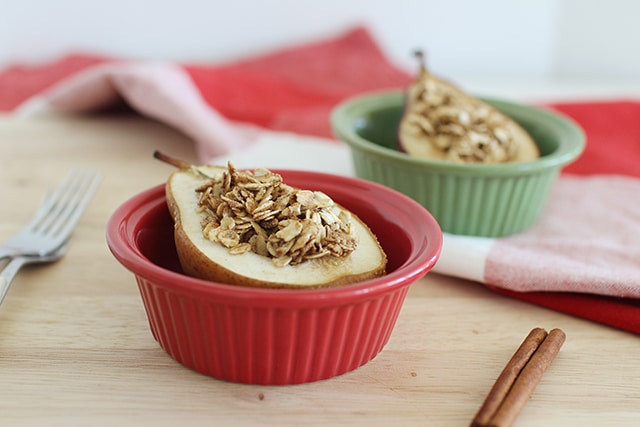 More Baked Fruit Desserts
Rainbow Pear Crisp
Simple Summer Apple Dessert
Kid-Friendly Baked Apple Dessert
Chocolate Baked Pear
Berry Cobbler with Quinoa
Healthy, Happy Eaters.
Join over 100k + subscribers and get family-friendly recipes, picky-eater strategies, lunch-packing tips and more, delivered each week to your inbox.