If you've ever read anything about the blogosphere, then it is highly likely that you've come across a claim that "every blogger needs an email list!" I know I have plenty of times.
While the importance of having an email list is clear, not often you will find information explaining what to do with that email list. Maybe send news updates to subscribers? But what else? Why is it so important?
In this post, I will clear some things out for you. I will explain how to create an email list for your blog, what is its purpose and even what email marketing tool to use. If you have any questions for me after reading this post, just drop them in the comment section below. I will be sure to answer them there. 🙂
Why create an email list in the first place
In today's online world, email is still the number one way to get in touch with a group of people at once. Sure, you can publish stuff and send messages directly to your subscribers on social networks, but because there already is so much "noise", it's going to be very hard to get noticed. Besides, sending one message at a time on Facebook is a lot of work.
Download our >>>7 SMART STRATEGIES TO GROW YOUR BLOG TRAFFIC FASTER guide for free!<<<
Online networks are crowded with bots, online marketers, ads and even scammers, all of which are competing for your attention. They all want to sell you something. Seriously, sometimes when I go on Instagram or Facebook, I feel nauseous from all of the ads I see.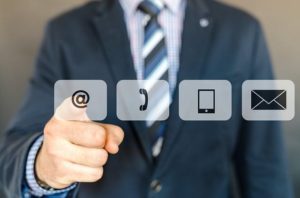 Because there is just too much stuff going on inside of the social networks, most of your posts will not get noticed by your followers. But to make it worse, your posts won't even be shown to most of your followers. You have to pay for that to happen. Yep, you have to pay money for an ad (which adds to the whole "too much noise on social networks" spiel) in order for your posts to reach even those people that have actually already followed you and want to see those posts from you. It's crazy, but that's just how social networks work.
So as you can understand, you can't really count on communicating to your followers through social networks. This is exactly why you need an email list.
You don't have to be big. You have to be remarkable. – Joe Pulizzi
By having a person's email, you can speak directly to them, which makes the whole experience for both, you and that person, a lot more intimate. By receiving your email to their inbox directly, it is much…