My favorite time of year for fresh salads! This Three Bean Salad with Vidalia Onion is a perfect side dish for your weekend barbecue or great to make ahead to serve at dinnertime during the week.
This recipe and post were created in partnership with Shuman Farms' Real Sweet Vidalia Onions.
This Three Bean and Vidalia Onion Salad has to be one of my favorite salads to make when we are barbecuing over the summer.  It's a classic salad that you probably have seen more than once on a salad bar – but homemade is so much better! Wow, can you taste the freshness. I love to add sweet Vidalia onions for extra flavor, especially when they are in season mid-April to early August.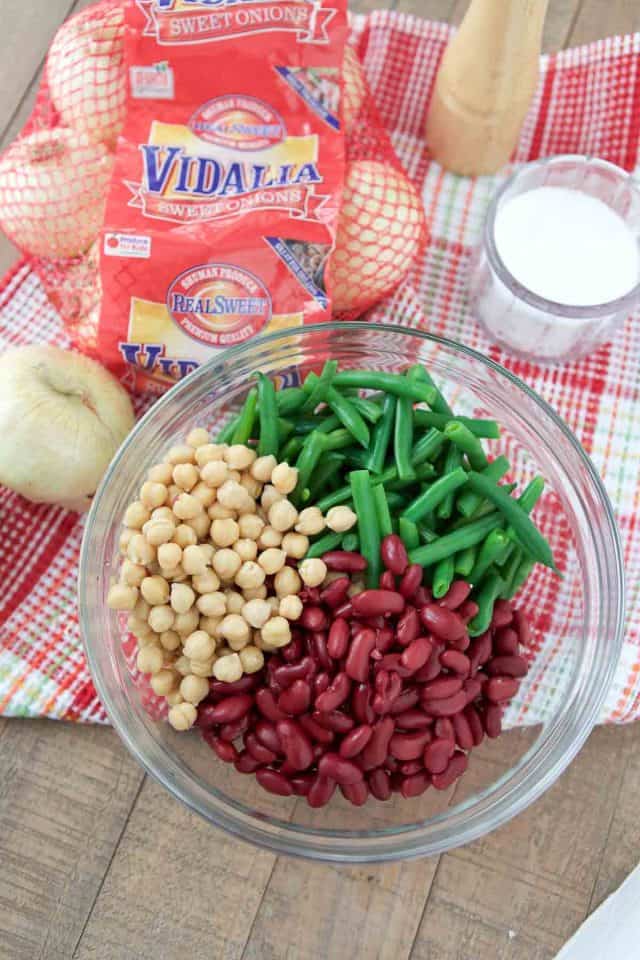 How to make three bean salad
So easy! All you need is a few ingredients for the base of the salad and a few for the dressing. The base of the salad is fresh green beans, garbanzo beans, kidney beans and sliced Vidalia (or sweet) onion.
The dressing is vinegar, oil, sugar, garlic, salt and pepper. You boil the dressing for a short time to meld the flavors then combine with the beans. That's it!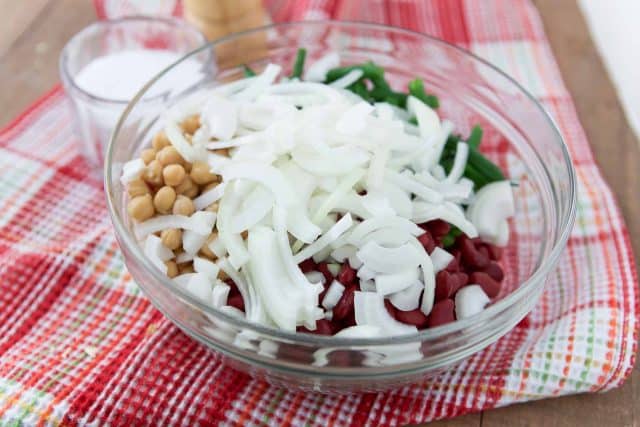 Vidalia Onions
I love using Vidalia onions in a lot of my recipes, especially salads, because of their mild, sweet flavor. Did you know that the reason these onions are sweet is because they are grown in the sandy soils of southeast Georgia with average rainfall that washes away the sulfur compounds that give onions the ability to make you cry? No tears when slicing up these sweet onions.
Another fun fact you may not know – Produce For Kids was founded by John Shuman in 2002 with the purpose to help inspire families to eat more fresh produce while raising money for charitable causes. If you have been reading my blog for a while, then you already know I've been a big supporter of Produce For Kids for several years as a contributor to their blog and recipe developer. I stand behind their mission and love seeing how they are working with the communities and charities they support.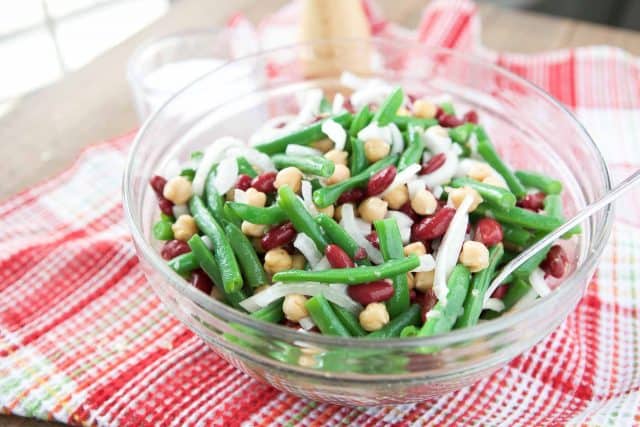 I originally started making this recipe for Three Bean Salad when I first started blogging years ago after seeing a recipe for homemade 3 bean salad on another blog. I tweaked it a bit by using apple cider vinegar and adding a good amount of sliced Vidalia Onions.  Leftovers are awesome because you can continue to use the dressing along with the beans by adding it to a nice green salad.  And bonus, this salad is super portable so go ahead and take it to your next summer get together.  Your friends will…