I recently had lunch with Jilliene Helman, Co-Founder and CEO of RealtyMogul. I was impressed with her focus on creating a long-term, sustainable business versus pursuing every real estate deal for growth's sake.
I'm currently in platform due diligence mode as some of my real estate fund investments are starting to pay out. I expect all $810,000 of my principal invested across 18 investments to be returned by 2021.
In addition to platform risk, one of my main interests as an investor is how a real estate crowdfunding platform performs its due diligence and selects its deals. As a multi-property real estate investor, I am extremely thorough in my due diligence process, even coming up with a new property buying signal.
I want to invest in deals that have already been carefully vetted with a fine tooth comb. Once I make an investment, I want to forget about my investment and enjoy life under the assumption the platform will do everything possible to ensure the deal performs as advertised. Otherwise, what am I paying them a fee for?
Of course not every deal will do well since there are no guarantees in any risk asset. But we need to do the required work before making any investment. Due to the importance of due diligence, I asked Jilliene to write a guest post to share their process at RealtyMogul, one of the leading real estate platforms founded in 2012 after the JOBS Act was passed.
How RealtyMogul Performs Its Due Diligence
As the CEO at RealtyMogul, I have approved over 300 property investments ranging from debt and equity and multifamily, retail, industrial, office, hospitality, self-storage and mobile home parks.
Since 2012, we have continued to refine our due diligence process and learn from our prior investments.

General Due Diligence Overview
The start of our due diligence process is a gut check.
Is this a market we want to invest in, with an operating partner we trust and are impressed with, in a property where we think there is an opportunity to make a strong risk-adjusted return?
In about 98% of the deals we see, the answer to this gut check is "no."
For starters, we automatically decline any requests for financing that are ground-up development, land, international real estate, or hospitality. Those are simply not areas where I am willing to take the risk required.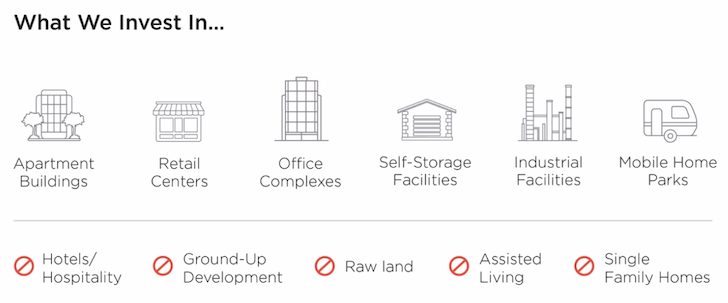 Assign A Due Diligence Team
Once we have a deal that passes our gut check, the next step is to assign a team to…