Impress a crowd with this vegetable lasagna that's flavorful, hearty, and healthy. Whole grain no-bake noodles are layered with a veggie-packed marinara sauce and cheese for a classic taste with added nutrition.
If you're looking for an easy Italian meal to feed a crowd, this is it! Hearty eaters won't miss the meat in this rich and colorfully-layered vegetable lasagna.
This lasagna has it all. A customizable rainbow of veggies adds great taste and a punch of vitamins and minerals. (See a list of all the veggies you can add below.) No-boil noodles make for an easier assembly. Three cheese add plenty of protein and indulgent creaminess.
You can even make this dish ahead, and freeze it! Just save some for us…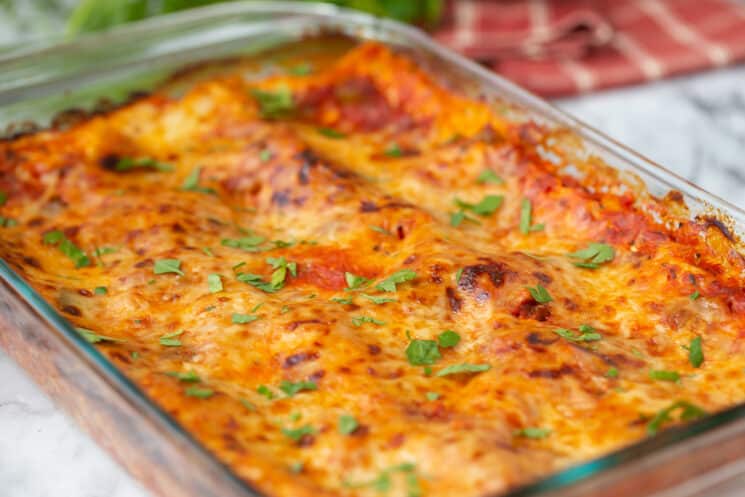 How to Make Vegetable Lasagna
Veggie lasagna feels fancy and feeds a crowd, but it's really not that complicated to make. Especially if you use no-bake noodles. We like this brand because it's no bake AND made from 100% whole wheat. Here are the basic steps to make this dish using no-bake noodles:
Saute the veggies and combine them with the sauce.
Stir together the cottage cheese, cream cheese, egg, and Parmesan.
Layer the sauce/veggie mixture, noodles, and cheese in a large casserole dish.
Top with extra Mozzarella cheese and bake.
What Vegetables Are Good In Lasagna?
We like to use vegetables that taste good with an Italian flare.  Really, you can toss almost any veggie into a lasagna! So feel free to add what you have on hand, and what your family likes.
You also don't have to be super strict about the amount of veggies you use. Adding a little more or less of any one veggie isn't going to change how the dish turns out. Try a combination from this list:
mushrooms
carrots
spinach
onions
eggplant
bell peppers
zucchini or yellow squash
diced tomatoes
One cool thing about veggie lasagna is that the flavors and textures of the vegetables can change the overall taste profile of the dish. This is a good thing! It means you can customize your lasagna to coax picky eaters to dive right in.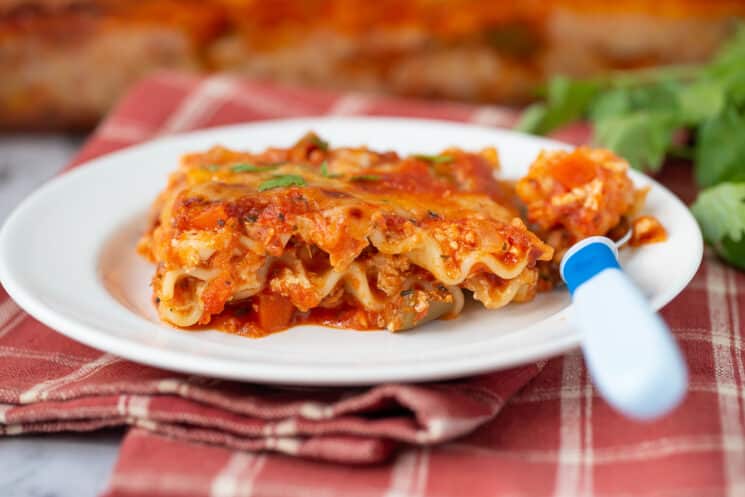 Can I Freeze Vegetable Lasagna?
Yes! Freezing a homemade lasagna is a great way to have a ready-made meal on hand. 
There are two ways to freeze lasagna: baked or unbaked. Either way you need to thaw it out 1-2 days ahead before it's ready to put into the oven. Here are some tips to keep in mind if you plan on making vegetable lasagna to freeze:
Assemble the lasagna in a dish that can…