Got a picky toddler who refuses meat? Or a teen athlete who wants to gain muscle mass? This healthy whole foods shake offers a boost of protein–15 grams per cup!– without any processed powders. And it tastes like chocolate!
There go your kids. Bouncing around the house or running through the backyard. And in the back of your mind, you're wondering, "How can they possible have this much energy, when they've eaten nothing but buttered toast and a banana all day?"
Parents reach out to us with concerns about their kids' protein intake all the time. Fortunately, it's easy to add more protein to their diet… even if they don't eat much meat.
You can help your kids increase their protein intake with simple whole foods… no protein powders or supplements necessary. (In fact, powders may cause problems for kids! More on that later.)
This shake is creamy, chocolatey, delicious, and totally packed with protein. One cup supplies more protein than two eggs! Let's get blending…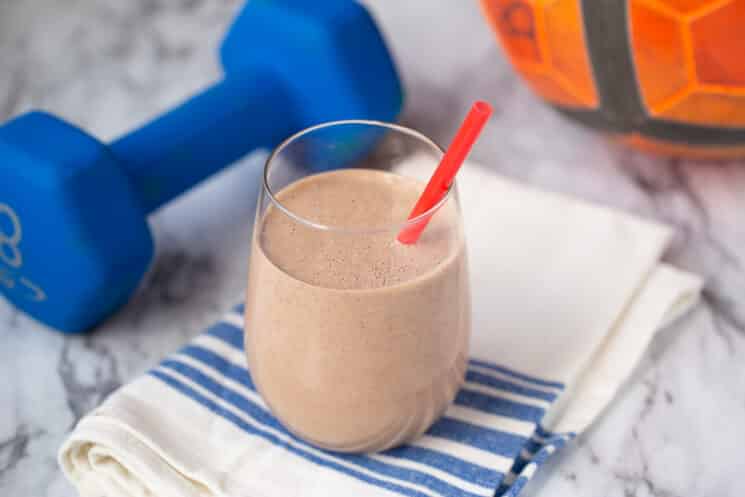 What's in This Protein Shake for Kids?
Whole milk. with eight grams of protein per cup, milk is an super choice for kids who tolerate dairy. If your kids have a dairy allergy, you can use soy milk, which also has eight grams of protein. (Keep in mind that many other plant-based milks, like almond milk, actually contain very little protein.)
Silken tofu. This type of tofu is soft and creamy and it completely disappears in a smoothie. One half cup of silken tofu adds four grams of protein.
Chia seeds. With two grams of protein per tablespoon, chia seeds are a perfect addition. These mighty little seeds not only add protein, but also fiber and omega-3 fats, enhancing the absorption of fat soluble vitamins like Vitamin D.
Natural peanut butter. Peanut butter tastes amazing in this shake and adds a whopping eight grams of plant-powered protein (just as much as milk!) You can sub almond butter or even sunflower seed butter if you like. The protein content among these foods is comparable.
Cocoa powder. Unsweetened cocoa powder gives this shake its delicious chocolate flavor. It actually brings a couple of grams of protein to the party, too.
Honey. Hello, sweetness! We don't mind a bit of added sweetener in this shake, but for a shake that's totally free of added sweeteners, you can sub in a ripe banana.
Why Whole Food Proteins are Best for Kids
You want your kids to get enough protein, but you might feel…