To begin with, I just want to let you know that in this Digital Course Academy review, I will be outlining the contents of the course at the end of the blog post. And why do I do it in the end, you might ask? Well, simply because it's not hard to find other blog posts on the internet that lay out the contents of the DCA course without giving it much depth.
I, instead, think that it's more interesting to explain to you why I even decided to make an online course in the first place, what were Digital Course Academy's alternatives, how I feel about DCA in general, as well as Amy Porterfield as a teacher. I hope you enjoy my approach. 🙂
Why did I decide to make an online course?
Getting ahead of myself, I want to be completely transparent with you and tell that I have not yet finished my own online course. Not because I am lazy or because Amy is a bad teacher.. no, not at all. I've had some really challenging times in my personal life, which included me moving to another country. I also had a few other projects in progress that needed to be finalized first.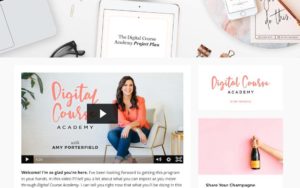 To add, Amy is actually a wonderful teacher. In fact, out of all the courses that I have taken, and I have taken quite a few, she is the most positive and the best at explaining things.. even a total newbie can understand what she is saying. I mean, if you look at what she has achieved, in terms of money and popularity, it kind of proves the hypothesis that she is absolutely AMAZING at what she does.
Now, you may be thinking to yourself, but Victor, you haven't yet completed Digital Course Academy, your own course is not up, you don't have results, so how can you be writing this Digital Course Academy review?!
Well, my friend, concerning the results, don't worry, there are plenty of people in the DCA Facebook group that are earning 6 and even 7-figure incomes from their online courses. So you don't have to be concerned about whether this course brings results or not.. it does, and it's a fact.
Now, concerning the text that you are currently looking at.. my goal was to write a review of how I feel about the Digital Course Academy course in general, about how good or not good the content is (I have watched all of the modules), as well as Amy Porterfield as a teacher.
So why did I even decide that I want to create my own online course in the first place?
Well, as you know, we live in the Information Age. In my opinion, one of the best things about this time is that we can…