This Slow Cooker Italian Sausage and Kale Soup with Sweet Potatoes is hearty yet perfect for a light fall dinner. Paleo friendly and low carb. Throw all your ingredients in the crock pot and dinner is set!
Click here to Pin this paleo slow cooker sausage and kale soup recipe!
Originally published August 31, 2017. This soup is one of my favorites to make especially when I need a reset after a holiday weekend.
It never fails, the first couple weeks after school start and the sickness begins. Last week and weekend we had 2 streps and 1 virus hit us and we were literally at the doctor 3 different days with 3 different kids. It all started in preschool, which sounds about right and thankfully did not end with the parents although my allergies have been going a little haywire lately and my sinuses are acting up. Soup is always my go-to when I feel like this and although my 2 boys don't typically partake in it, my daughter and husband do and I felt extra good about them eating a bowl of this Italian Sausage and Kale Soup with Sweet Potatoes from my friend Natalie's new cookbook, The Big Book of Paleo Slow Cooking. Nothing but good stuff in this soup.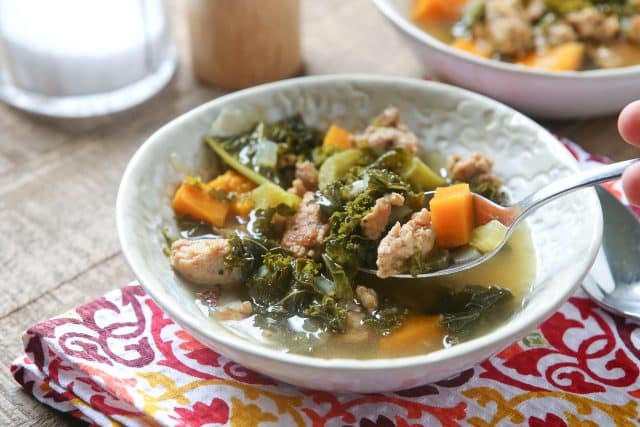 How do you make healthy sausage and kale soup?
There are a lot of sausage and kale soup recipes floating around, but most are cream based and heavier than I like my soup. I'm not a huge fan of creamy soup so this version of sausage and kale soup is exactly what I like. Cook up the Italian chicken sausage in a skillet before adding to slow cooker – I use this stove top browning crock pot (<– affiliate link) and the insert goes right onto the stove saving you an extra step and skillet to wash. It's perfect for recipes like this where you have to brown the meat first. Once the sausage is browned, everything goes in the crock pot and you are set!
These are your ingredients for this sausage and kale soup:
2 tablespoons ghee or bacon drippings (or use light oil if you are not strict paleo)
1 lb bulk uncooked sweet Italian chicken sausage
1 medium onion, diced
4 cloves garlic, minced
1 large sweet potato, peeled and cut into 1-inch pieces
1/2 large bunch kale, leaves removed from stems and cut into bite-sized pieces
1 1/2 quarts chicken stock
2 tablespoons red wine vinegar
pinch of crushed red pepper flakes
I am getting back in the habit of making soup once a week again now that we are shifting into fall. I love soup all year 'round but fall just screams soup doesn't it? It makes for super…