Posted: 9/3/2019 | September 3rd, 2019
I used to live in Taiwan for a few months as an English teacher. I loved the time there and have always felt the country was really under appreciated. So, in this is a guest post by Carrie Kellenberger from My Several Worlds and an expat living in Taiwan for ten years, she lists out all the amazing things you should see and do there.
Every country in Asia is beautiful, but Taiwan is special for many reasons. The people are warm and hospitable. In March 2019, Taiwan was listed as the happiest place in East Asia.
While it might be a small island, you would be amazed at the never-ending variety of sights and fun things to do here. With over a hundred mountain peaks above 3,000 meters, over a hundred hot springs scattered around the island, both golden and black-sand beaches, nine national parks, world-class museums, glittering skyscrapers, stunning temples, and a huge number of night markets that are second to none, Taiwan has something that everyone can enjoy.
To this day, nearly 14 years after I moved here, I still think Taiwan is one of Asia's best-kept travel destination.
Here are some of the best ways to spend your time in Taiwan:
1. Eat, Eat Eat!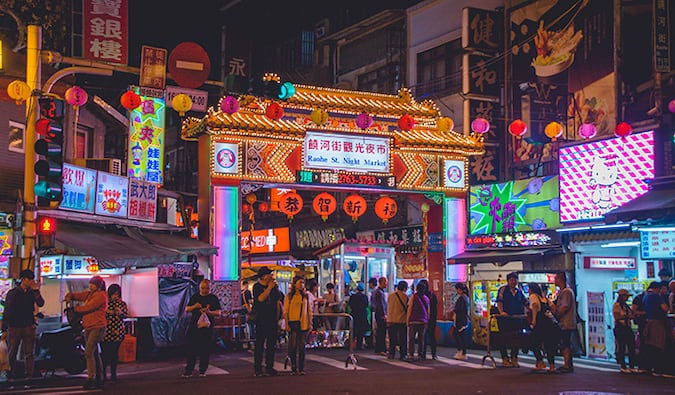 The national pastime in Taiwan is eating. Taiwanese, both adults and children, are very work and study oriented, so their lifestyles demand healthy food that is available on the go. Moreover, there is always an abundance of fruits and vegetables, so visiting a local market can be a delight when you find out how cheap it is to eat fresh food.
As a result, Taiwan has become an epicurean's playground. The food scene is an international smorgasbord of culinary delights, for every budget and almost every diet.
Night Markets
While there are five-star international restaurants of every variety throughout the country, the night markets are where the real gastronomes go. They promise to keep your belly full while your wallet remains relatively unscathed.
There are over 30 night markets in Taipei, New Taipei, and Keelung (and over 70 night markets across Taiwan). If you're not sure which one to choose, visit this list of night markets in Taiwan and take your pick. My personal favorites are Shilin, Keelung, and Roahe Street in Taipei.
Here are a few things you should try:
Xiao long bao, also known as soup dumplings, a favorite staple food here. They are made out of a thin pastry folded into a type of bag that is then stuffed full with a meat-and-vegetable mixture and a tiny amount of…