Crisp and tender butternut squash fries are super healthy for kids and simple to make! Turn this fall favorite veggie into the ultimate baked fry (and don't forget the ketchup!)
Move over sweet potatoes, there's a new orange fry in town! Kids who flip for french fries will love these crispy and tender sticks hot from the oven with a ketchup dipper on the side.
These healthy baked fries are simply seasoned with a little garlic powder and sea salt, (the sweetness comes from the gorgeous fall squash itself,) and they're super-charged with nutrition your kids need.
Scroll to learn more, including our tip for cutting whole squash, which takes the fuss out of handling this sometimes-intimidating veggie.
Does Butternut Squash Taste Like Sweet Potato?
Are you new to squash fries? Then you might be wondering what exactly is going to come out of your oven.
Butternut squash does taste something like sweet potato. It has a sweet and earthy/floral flavor, and fairly high starch content, much like sweet potatoes and yams.
A good butternut squash is a bit less dense and more moist than a sweet potato. If sweet potato fries sometimes seem "heavy" to you, you might prefer squash fries.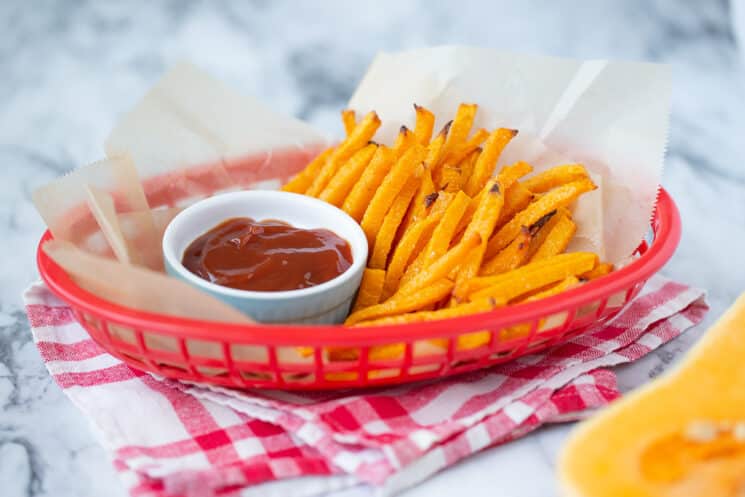 Why Your Kids Should Eat More Squash
For a lot of families, carrots are the go-to orange veggie for lunchboxes, salads, and sides. (This is great! Keep eating those carrots.) But there's also a wide world of orange veggies out there that are fantastically good for your kids.
Orange vegetables like butternut squash. are packed with special nutrients like Vitamin A, potassium, and flavenoids. (These are colorful chemical compounds in plants that carry special health benefits.)
Orange veggies also taste sweet and can be prepared in a lot of different ways. This makes them a great candidate for picky eaters who are still learning to branch out.
Choose squash to add more flavor variety and more of those unique nutrients to your kids' diet… especially during the months of August-November, when squashes are in peak season.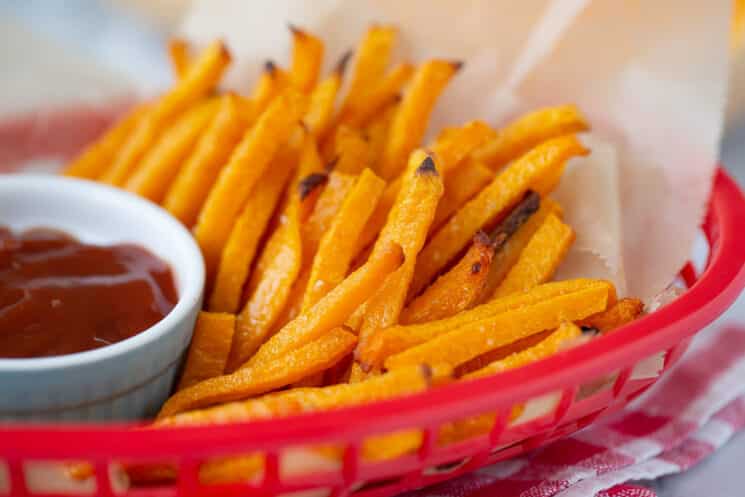 The Trick to Cutting Butternut Squash Easily
Butternut squash is HARD. If you've ever tried to tackle a whole raw squash with a big knife, you know what a pain it can be.
Here's how to make cutting one a breeze: par bake that bad boy. Just pop that whole squash in a 375 F oven for about thirty minutes, and it'll soften up just enough for you to slice it easily… and…