This Pasta with Chanterelle Mushrooms and Crispy Prosciutto is Italian fall comfort food at its finest. Ready in just 20 minutes and only 8 simple ingredients required!
---
This heart-warming pasta with chanterelle mushrooms makes such a great weeknight meal for this time of the year.
It's the kind of comfort food I crave when the temperature drops and it's just freezing out there.
**This post is sponsored by a2 Milk™. All opinions are my own.**
This recipe is deliberately inspired by a traditional Italian pasta dish, pasta alla boscaiola (literally woodman's pasta).
This classic Italian dish has many variations, one of my favourite versions includes wild mushrooms (or porcini), Italian sausage and fresh double cream.
I wanted to lighten things up a little, so I've swapped the sausage with crispy Parma prosciutto and made a creamy white sauce with no cream or butter in sight.
And wow, I couldn't expect it to taste any better!
This creamy pasta with chanterelle mushrooms features perfectly al dente bucatini pasta, coated evenly in a beautiful, velvety and creamy chanterelle mushroom sauce and topped off with crispy flavourful prosciutto.
Ingredients For Pasta With Chanterelle Mushrooms
Beautifully comforting and ready in just 20 minutes, that's just so much to love about this pasta with chanterelle mushrooms.
Since you only need a bunch of simple ingredients, try to get the best you can find, here are a few tips and recommendations.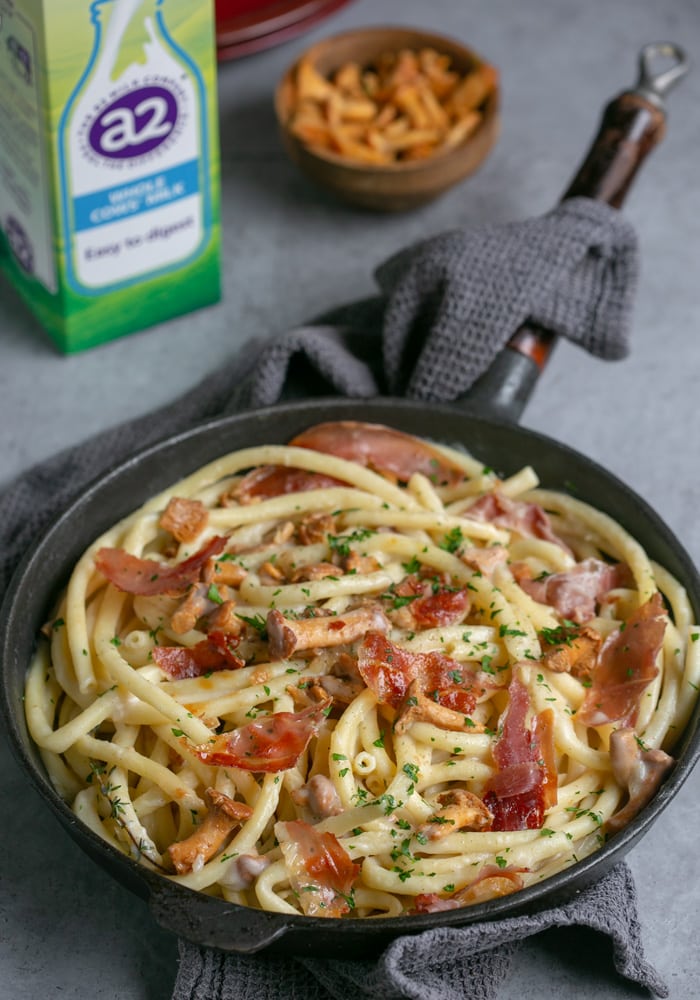 MILK
For an incredibly rich sauce loaded with flavour, I prefer to use whole fresh milk. If you'd like to use semi-skimmed milk, please note that the sauce might be thinner and probably a bit on the bland side.
My favourite milk to use hands-down is a2 Milk™. If you haven't tried it yet, a2 Milk™ is the only milk that comes from specially chosen cows that naturally produce only the A2 protein, and none of the A1 protein. 
PASTA
You can use any kind of pasta you like, but try to opt for bronze-cut pasta, as it has a more rustic texture and flavour.
I love pairing bucatini pasta with this kind of creamy sauces. Similar to the spaghetti, this unique pasta shape is thicker with a hole running through the centre, which means bucatini get coated and filled with sauce, for the ultimate creamy pasta experience!
PROSCIUTTO
The unique smoky and sweet flavour combination of crispy Parma prosciutto brings this pasta to the next level.
I like to get the prosciutto from the deli and not the pre-packaged, it…