This is definitely the BEST vegan apple crumble. A million times better than the classic version, and it's naturally gluten-free and dairy-free!
---
Oh… hello fall season! I'm super excited to start the baking season all over again, and the first recipe that jumped in mind was this delicious vegan apple crumble.
I've been making this crumble for YEARS, and the family still can't get enough!
This recipe has been tested, improved and approved exhaustively, to bring you the BEST vegan apple crumble you'll ever make.
I'm a massive apple fan, and right now the farmer's market is PACKED with the most delicious varieties out there.
From the tart Granny Smith to the sweet Honeycrisp, there's a different apple for every day of the year, and even more *there are actually more than 7000 apple varieties in the world*.
And as much as I love biting into a juicy apple, a heart-warming dessert is definitely my favourite way to make the most of apple season.
This vegan apple crumble features a crunchy nutritious topping of toasted hazelnut and almond flour and a deliciously warm spiced apple and cranberry filling.
It's my kind of dessert. FULL of flavour, with a perfectly balanced combination of sweet, tart, crunchy and spiced flavours.
Plus, the dairy-free topping with almond flour and added nuts, turns it into an energy-packed treat to easily fuel you up during the cold season!
Here are a few reasons why you should love this dessert. It's:
vegan
gluten-free
only 2 steps required
ready in less than 40 minutes
only simple ingredients required
Ingredients for Apple Crumble
This is the easiest crumble recipe you can possibly make, and requires less than 10 ingredients:
apples
cranberries
coconut oil
demerara sugar
almond flour
hazelnuts
a few favourite spices (I use a combination of cinnamon, ginger and nutmeg).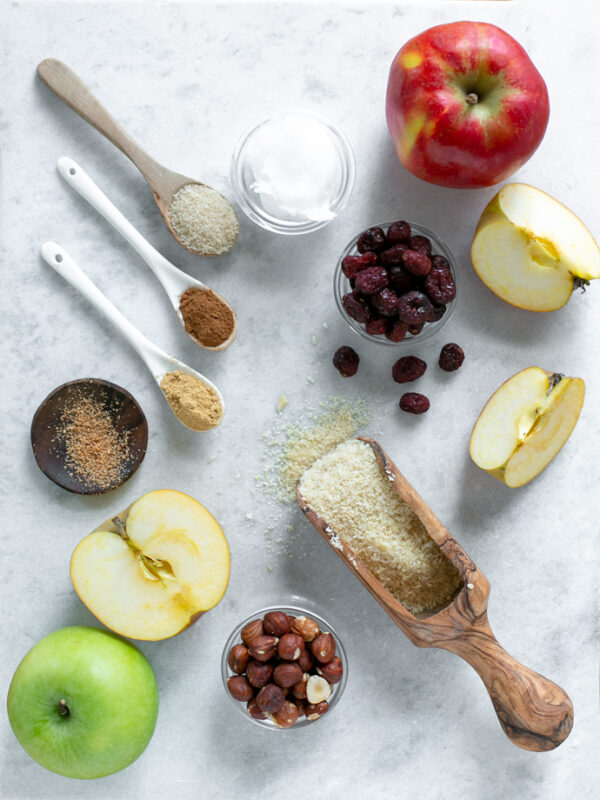 Traditional crumble recipes call for tons of sugar, flour and butter, but this apple crumble has a reduced amount of sugar and no flour or butter in sight.
I like to use dark or light demerara sugar, but you can also use regular brown sugar if you like.
Avoid white sugar and caster sugar, as I find they're both overly sweet and they don't add the subtle but lovely caramel note as the other mentioned sugars.
For the crumble topping, I use a combination of almond flour, toasted chopped hazelnuts, a pinch of sea salt, demerara sugar and coconut oil, and the result is totally amazing!
For the apple filling, you can use your favourite apples, as long as you choose the ones…