Posted: 11/7/2019 | November 7th, 2019
In this guest post, Charlotte Hockin offers some insight into gay travel in Asia. She and her girlfriend, Natalie, have been traveling around the continent for the past two years. Here's what they've learned from traveling as a lesbian couple in Asia.
Asia is a vibrant, diverse, and exciting continent to visit. However, for LGBT travelers, it can sometimes seem like a daunting prospect. There are countries that criminalize homosexuality, deeply pious states and regions, and places that have negative social opinions of the LGBT community. It doesn't exactly sound like all fun and rainbows, does it?
When my girlfriend and I set off on our Asian adventures two years ago, we had no idea what to expect but admittedly were rattled. Not only were we backpacking for the first time but we were traveling as a couple. Neither of us were really into social media at that point, so it almost felt like we were alone. The only lesbian couple to ever travel! Sounds silly, I know, but that's how it felt.
Fast-forward two years, and we've spent the better part of that time traveling around Asia. And do you know what? Gay travel there has been one hell of a ride! I mean, we've experienced it all: we've visited gay-friendly destinations, attended illegal drag shows, stayed with local families, and on the rare occasion, been the victim of discrimination and hostility.
With this in mind, we have put together this comprehensive guide for LGBT travelers in Asia (excluding the Middle-East & Russia). We want to share our experiences as a same-sex couple in Asia, as well as lay out all the factors that you should consider when planning your trip.
We believe that travel should be for everyone, and with our guidance, you can look forward to an incredible and, most importantly, safe journey of a lifetime.
Tip 1: Research local laws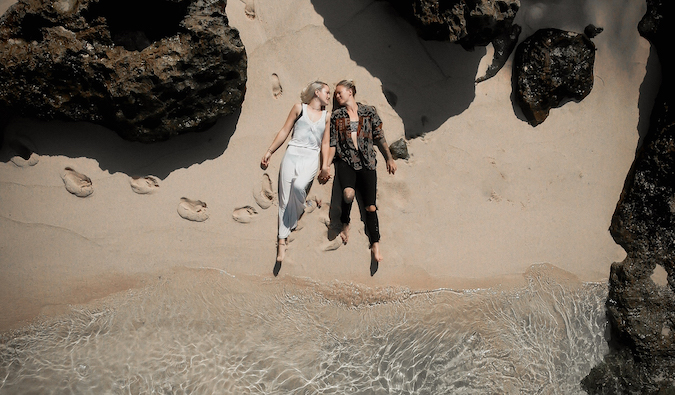 When planning your trip, it's important to be aware of local laws regarding the LGBT community in each country you want to visit. At the same time, I don't want you to make the common mistake of obsessing about these laws. Or worse, letting the law prevent you from visiting certain places.
Often, the laws relating to acts of homosexuality are incredibly complex. Some only apply to gay men, others mean the LGBT community are not protected from discrimination, and some countries implement sharia law. Governments do not expect tourists to get their head around this for the sake of a two-week trip. As a result,…