This easy, one-pot skillet chicken fajita pasta is loaded with flavor from every day pantry ingredients and comes together fast – perfect for busy nights!
Easy, quick, one-pot meals. You just can't beat them! And this creamy skillet chicken fajita pasta is a quick add to my favorite fast meals for busy weeknights. 
Of particular note: my entire family ate it without complaining, even the resident bell pepper hater (spoiler alert: I think he gave his peppers to his sister). It helps that we are a family of fajita lovers. So combining those much-appreciated flavors into a one-pot pasta meal was bound to a be a hit. 
This 30-minute pasta dinner is creamy, as cheesy as you want it to be, and packed with simple, smoky, delicious flavors.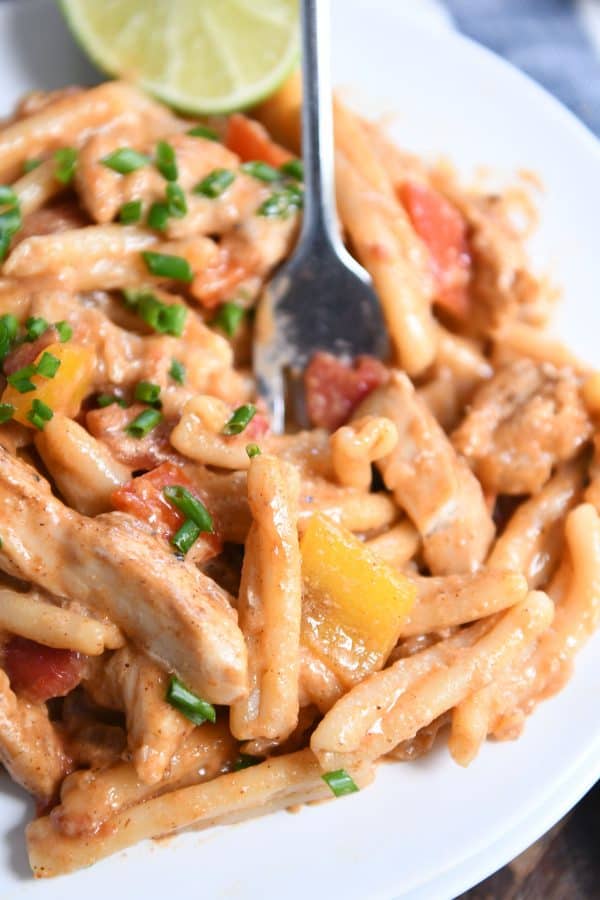 Homemade Fajita Seasoning Mix
The flavor base of the recipe is a simple, pantry-staple, homemade fajita seasoning: 
chili powder
cumin
garlic powder
paprika (smoked or regular)
dried oregano
The level of spicy heat in this seasoning almost totally depends on the type and/or brand of chili powder you use. I'm using Penzey's chili powder and it has a mild kick to it (McCormick's is usually pretty mild). Feel free to dial any of these ingredient amounts up or down to taste.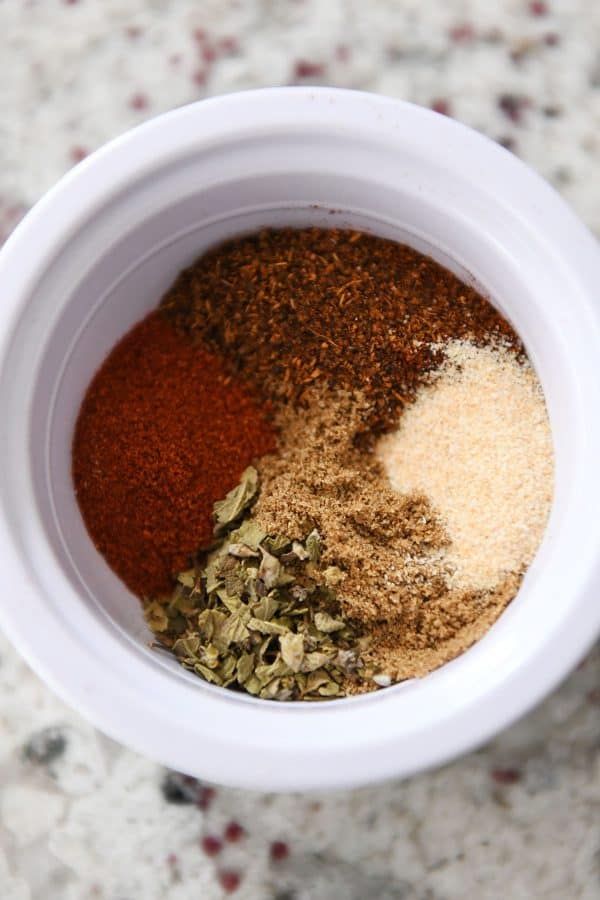 What kind of pot or skillet is best?
Because this recipe calls for a pound of pasta, it's going to be a tight fit in your every day 12-inch skillet. I don't want you to hate me when things go overflowingly awry. 
I often use a deep skillet (with about 2- to 3-inch sides) for one-pot meals like this. A large saucepan or pot will work just fine, too. Cooking the chicken in a single layer is important, so if your pot or skillet has a smaller surface area on the bottom, cook the chicken in separate batches. This helps the chicken develop great golden flavor instead of steaming from being crammed in too close of quarters.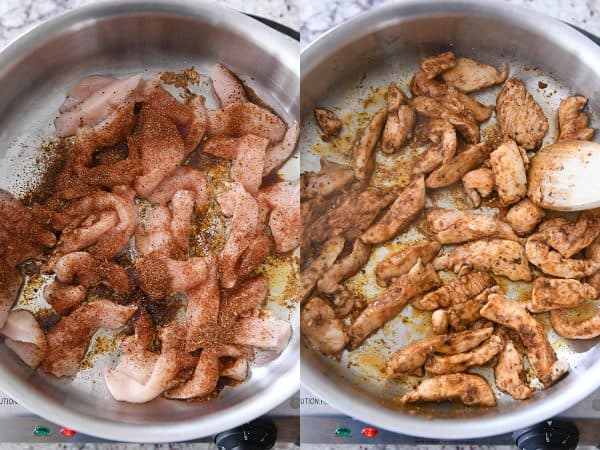 After the chicken goes off to the land of "set aside on a plate," it's time to cook the onions and peppers. You can use any type of bell peppers you like. And I firmly believe in my heart this recipe is adaptable to other veggies: mushrooms, zucchini, cherry tomatoes, etc. 
The vegetables get a healthy sprinkle of the homemade fajita seasoning (so did the chicken…and so will the pasta). And then after cooking until crisp-tender, they join their chicken compatriots on the plate to hang out for a minute. 
Since this is truly a one-pot (+ one plate) wonder, the pasta gets dumped into the pan with broth, milk (trust me, I promise it…