How to make the best authentic Italian Tomato Sauce recipe from scratch – Easy, rustic and flavorful, it takes only 5 ingredients and 30 mins to make a staple of Italian cuisine at home.
---
This classic Italian tomato sauce is as tasty as it is easy to make, and it's the foundation of so many traditional Italian dishes – I'm talking about tasty pasta with meatballs, bolognese sauce or even these awesome eggplant spaghetti sandwiches.
Growing up in an Italian kitchen, with my mum cooking tomato sauce at least 3-4 times a week, for me making classic Italian tomato sauce is a no-brainer. But I've seen out there that the struggle is real.
Some people would add a generous amount of sugar, others use tomato puree or passata, and I've actually seen a few friends adding ketchup (?!) in their sauce.
Believe me, if you're looking for the reeeally good stuff you don't need any of the above.
The Real Italian Tomato Sauce Calls For Just 5 Ingredients
All you need to make a GREAT authentic Italian tomato sauce is 5 simple ingredients: red onion, garlic, basil leaves, whole canned plum tomatoes and extra-virgin olive oil.
Using the right ingredients is crucial for making the best Italian tomato sauce.
I opt for organic sweet small red onions, organic garlic, high-quality DOP extra virgin olive oil, fresh basil leaves and last but not least, organic whole plum tomatoes.
If you're using fresh tomatoes (which I highly recommend when they're in season), you need to blanch the tomatoes in simmering water for a couple of minutes, then peel the skin off and proceed with the recipe.
It's not easy to find super tasty tomatoes these days, so I mostly use properly-good canned whole tomatoes (best if you use the San Marzano variety).
Canned tomatoes are usually less sweet than fresh ones, so you may want to add a pinch of sugar whilst cooking up your sauce.
But if you have it at hand, a fresh bay leave will give your sauce the perfect sweetness balance. Also, make sure you remove all the seeds from the tomatoes, as they're a little bitter.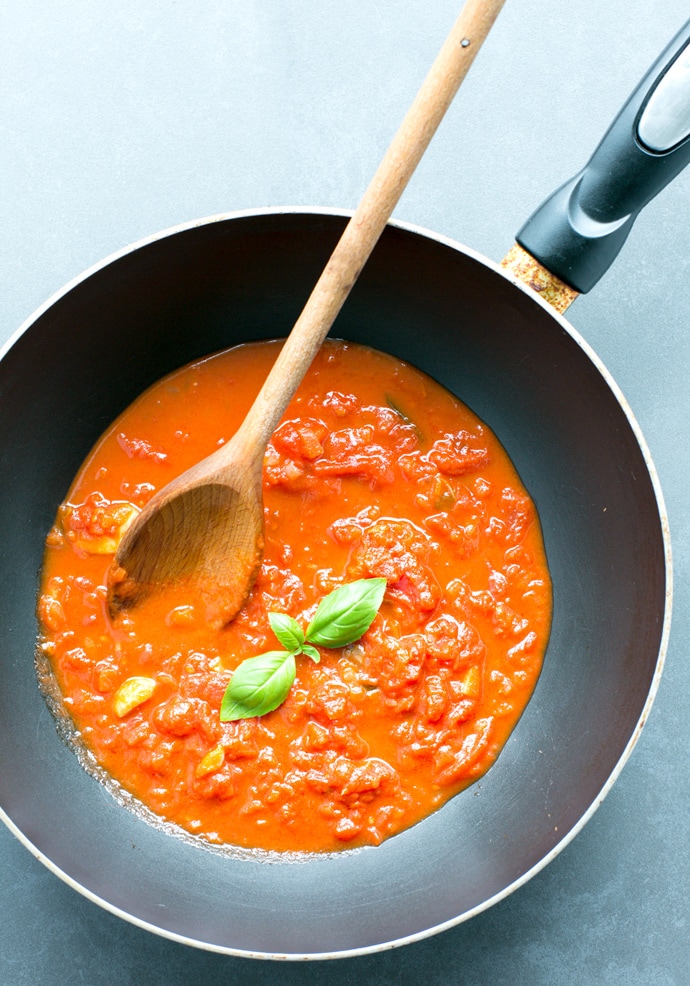 The perfect homemade Italian Tomato Sauce takes a little patience to make, but it's definitely worth it.
The secret lies in slowly simmering for about 20-30 minutes the tomatoes with onion, basil and garlic until it reaches a creamy but still a bit chunky texture, and has just the right balance of sweetness and savoury when you taste it.
Once ready, store your sauce in airtight jars in the fridge for up to 1 week, or…