No stand mixer needed for these easy homemade English muffins! They are simple, yummy, and can easily be made with whole grains!
Homemade English muffins are ridiculously delicious. And if you're asking yourself why you would ever want to make them at home, let me give you two reasons:
1) they taste even better than the store bought ones
and also,
2) rock star status points
And trust me, you will feel like a rock star after making these super easy homemade English muffins.
You don't even need a mixer. The dough is mixed by hand, in one bowl, in under 15 minutes. And if you need even further convincing, I'm going to show you what we do with them for one of our favorite, go-to, easy weeknight dinners.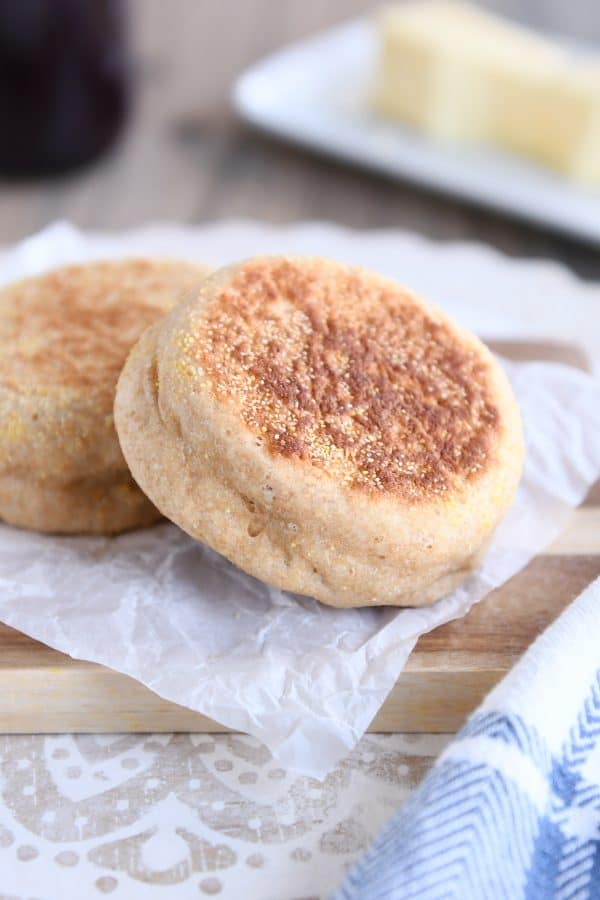 Whole Grain English Muffins
These English muffins work great with whole wheat flour. 
I highly recommend using a white wheat variety (soft or hard) or kamut or einkhorn. I have the best results with any of those when using them in breads and other baked goods.
The texture of these homemade English muffins is soft and light and tender. They even have the signature airy holes inside thanks to the wet batter.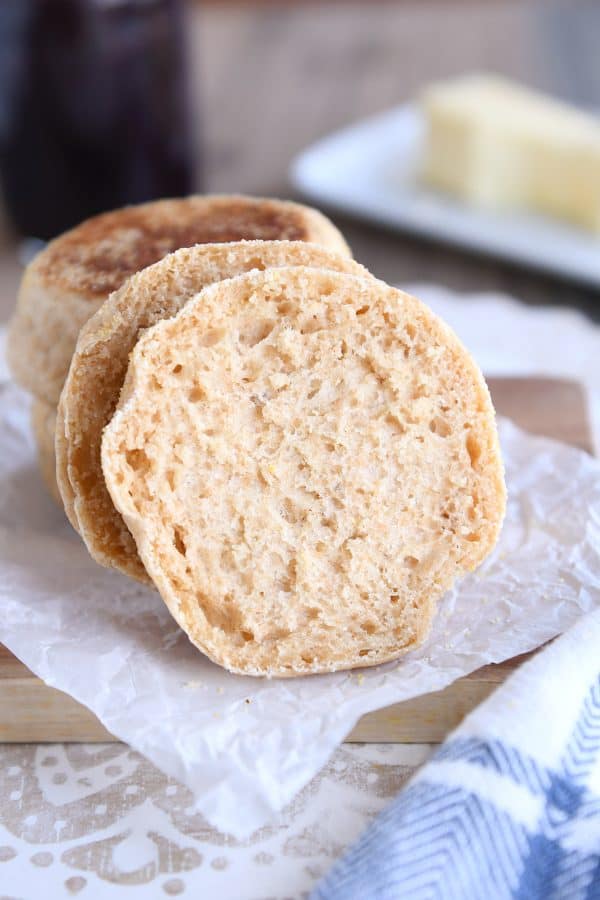 The reason English muffins exist
In my humble opinion, that reason is egg, ham and cheese sandwiches. 
It's the best combination on an English muffin since the beginning of time. And we eat them several times a month for quick dinners, especially when we're on the go. (No, definitely not always with homemade English muffins.)
I assemble the sandwiches ahead of time, wrap them in foil, keep them warm until we go, and then throw them at the kids in the car or at practices, lessons or games.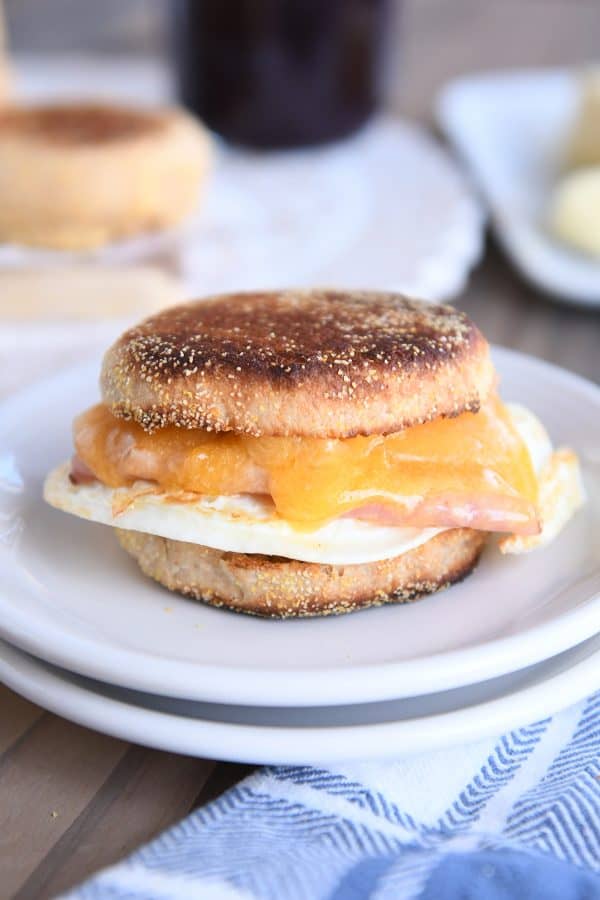 How to make homemade english muffins
Let's walk through this process together! I know making English muffins at home might seem intimidating, but it's actually not hard at all. Promise.
Sometimes a visual just helps. I've got you. Let's do this. 
In a large bowl, stir together the warm buttermilk (or milk) and butter. The buttermilk gives a light, but not overpowering, tanginess to the English muffins. Delicious.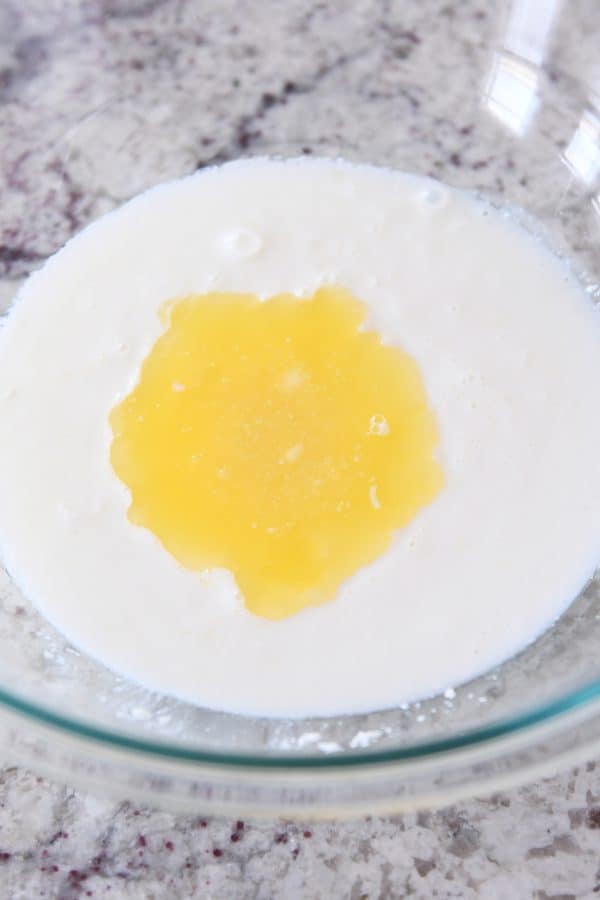 Add the salt, sugar, and yeast. 
The recipe calls for instant yeast. So there's no need to proof it before using. I've given a couple pointers below in the recipe if you want to sub in active dry yeast.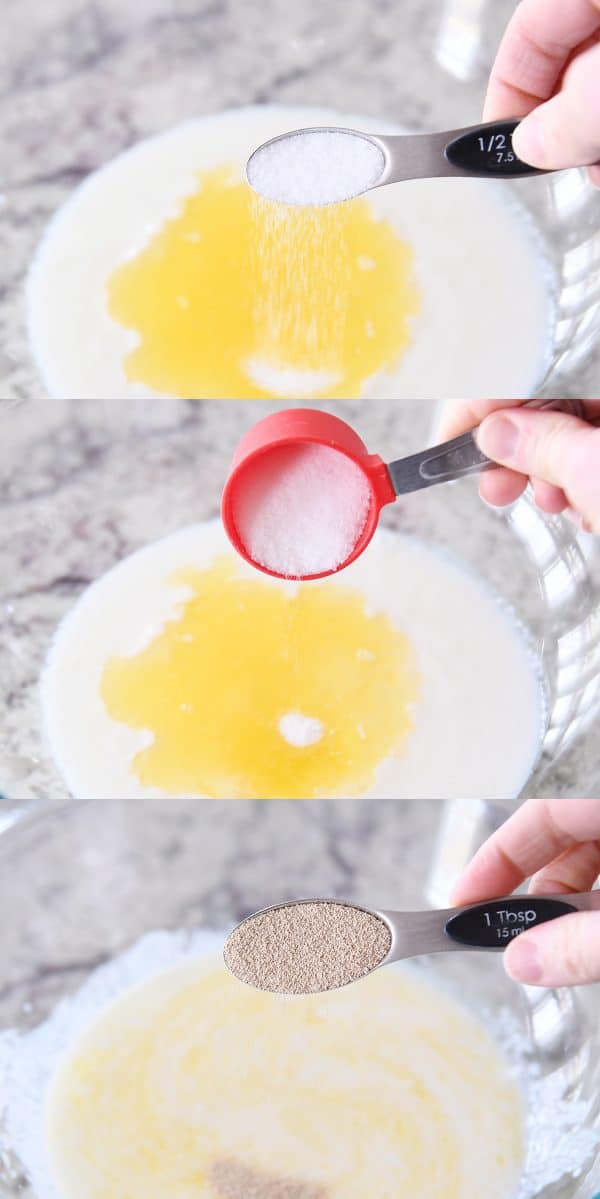 Add the flour. I'm using half whole wheat flour and half all-purpose flour. 
Bread flour should work really well, too. And you can definitely use 100% all-purpose flour OR try using 100% whole wheat flour. Both should work like a dream as long…