This pink tropical raspberry sorbet is a super easy frozen treat for hot, summer days! Serve in a dish or with ginger ale as a float. Delicious either way!
I am so in love with this fruity pink sorbet! It's a little bit retro, a little bit tropical, and a whole lot delicious.
Talk about a refreshingly delightful treat for the hot summer days ahead. It takes just minutes to mix together, and it's fantastic scooped in little dishes OR mixed with ginger ale or another fizzy soda for a delicious float-type drink. 
I think it would be a wise decision to keep a batch of this in the freezer at all times. 

Trust me on this
I know some of you saw the bananas in this recipe and may or may not have said to yourself "Mel's crazy; bananas do not belong here…I'm out."
I'm asking you to trust me on this one. The bananas are wonderfully delicious in this pink tropical raspberry sorbet!
Growing up, my mom made a similar slushy fruit concoction that had more of an orange vibe – but it also had bananas. We would scoop it into cups and pour in a little sprite or 7-up, and it was one of my favorite things ever.
When it is all frozen and slushified, the bananas have the best creamy texture.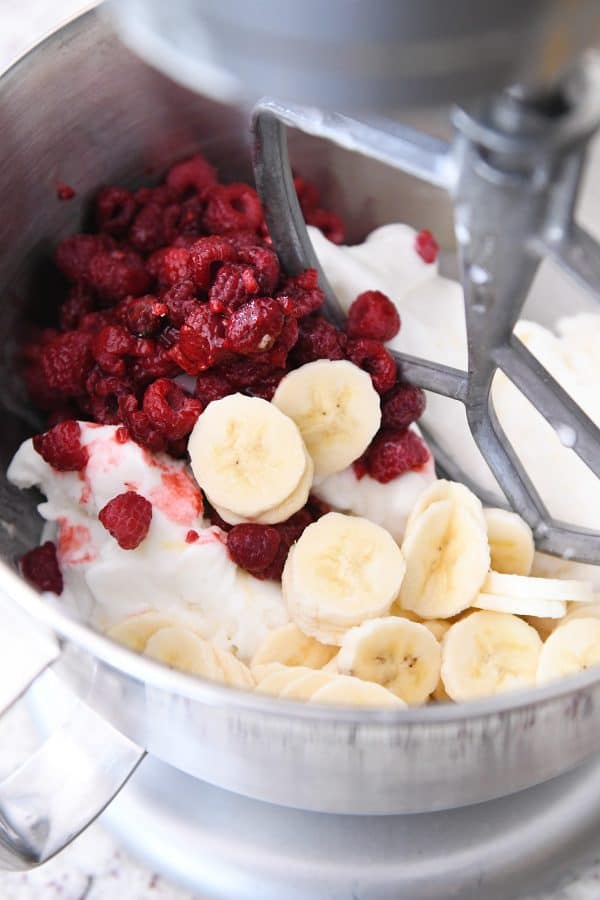 This recipe couldn't be simpler. To a mixer (or just into a bowl to mix by hand), you'll add:
pineapple sherbet
thawed frozen raspberries and all the juice
sliced bananas tossed with a little lemon juice
Mix it all up until it is lusciously creamy and pink. The raspberries and bananas will break down into little pieces. You can mix for as little or as long as you want, depending on the texture you are after. 
Sidenote: before I create a revolt, I am already aware that in the strictest sense of the word, "sorbet" classically is just fruit + sugar without any creaminess or dairy. This recipe includes sherbet (which we'll talk more about in a sec), and sherbet is usually dairy-based. So why am I calling it sorbet when it technically isn't sorbet? The awesome MKC reader, Shauna, who sent me this recipe (that her mom invented) calls it "pink sorbet" – I loved the name, I love the history behind it, AND I love the recipe, so I'm still calling it sorbet. Thanks for listening. 🙂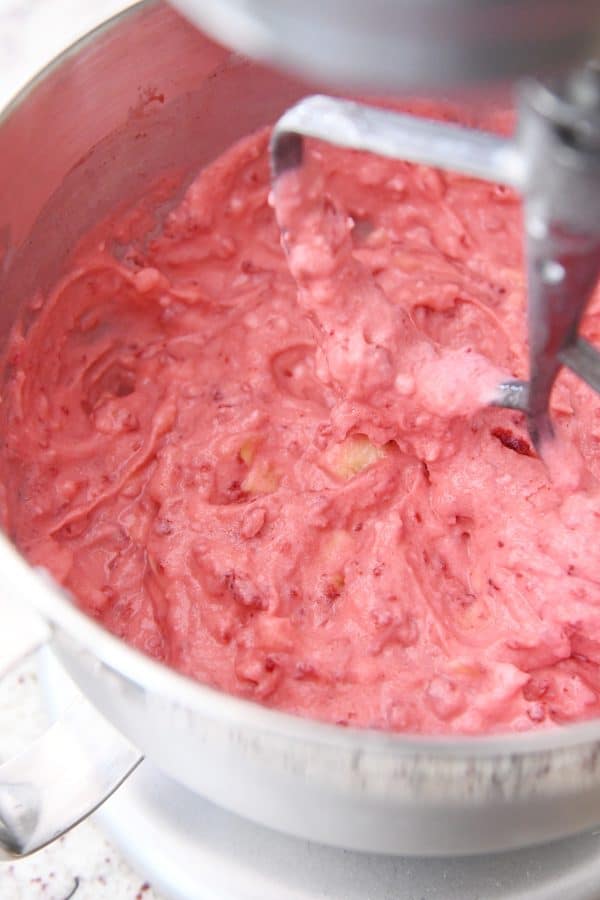 Let's Talk About Sherbet
Can I make a confession? Sherbet is quite possibly one of my least favorite frozen treats ever. I love ice cream and gelato. Frozen yogurt and sorbet. But sherbet? Pass. 
However, in this recipe, the pineapple sherbet is the perfect ingredient to bring all the flavors together. It adds a creamy tropical vibe without overpowering. Plus the neutral color helps let the raspberries shine with their vibrant pinkness.
I haven't made this with other flavors of sherbet – pineapple sherbet was readily available at my small town grocery store. But I wonder if it would also be tasty with other flavors? Lime, maybe? Report back if you try.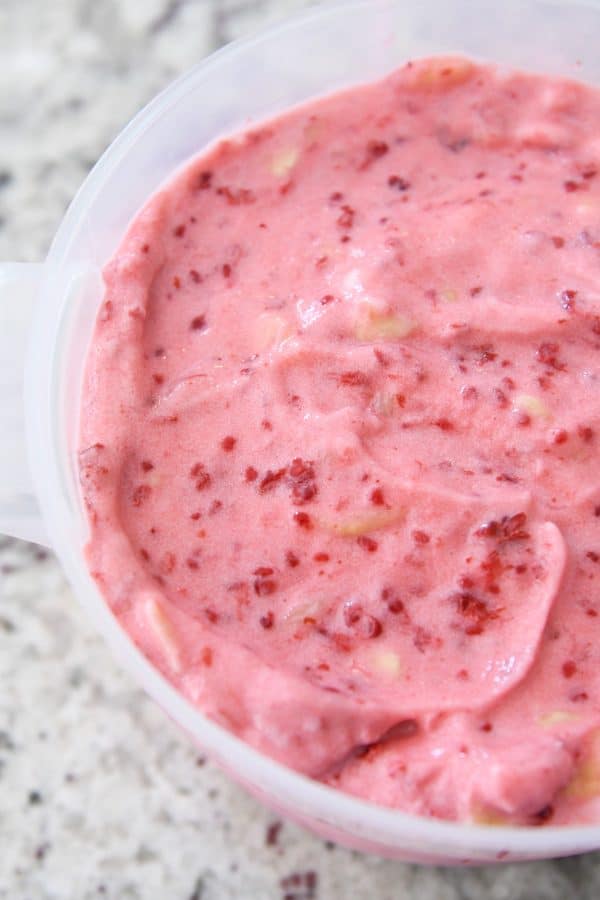 Scoop the mixed fruity pink sorbet into a freezer-safe container and pop it in the freezer until it is set up.
It can be frozen for up to a week, and probably longer if it is well-covered. 
If it has been frozen for a while and is fairly hard, let it sit out at room temperature for 15-20 minutes before scooping it up.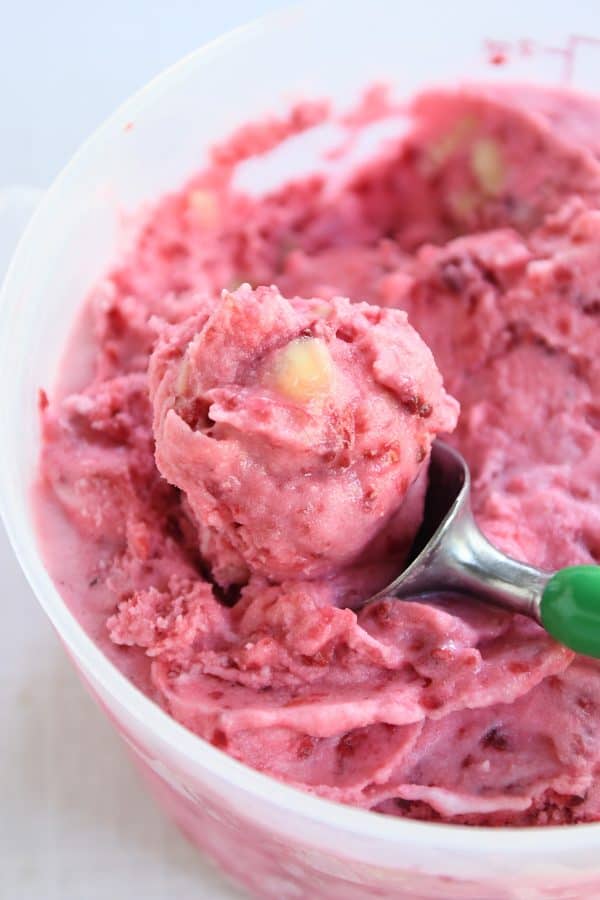 Versatile serving opportunities
The beauty of this fruity pink tropical raspberry sorbet is that it can be served a couple different ways. 
Shauna (who sent me the recipe) clued me in that it is fantastic served in small dishes with thin, crispy lemon cookies. 
I've found just such a cookie at Trader Joe's and at Costco. I think Mrs. Meyers or Dewey's are popular brands available at a lot of grocery stores. (If you can't find crispy lemon cookies, a vanilla cookie would be delicious, too.)
The combination of the creamy, refreshing sorbet and the light and crispy cookies is out of this world delicious. Pretty and elegant, it would be perfect for a fun luncheon or baby/bridal shower…or just for a simple after dinner treat in the summer.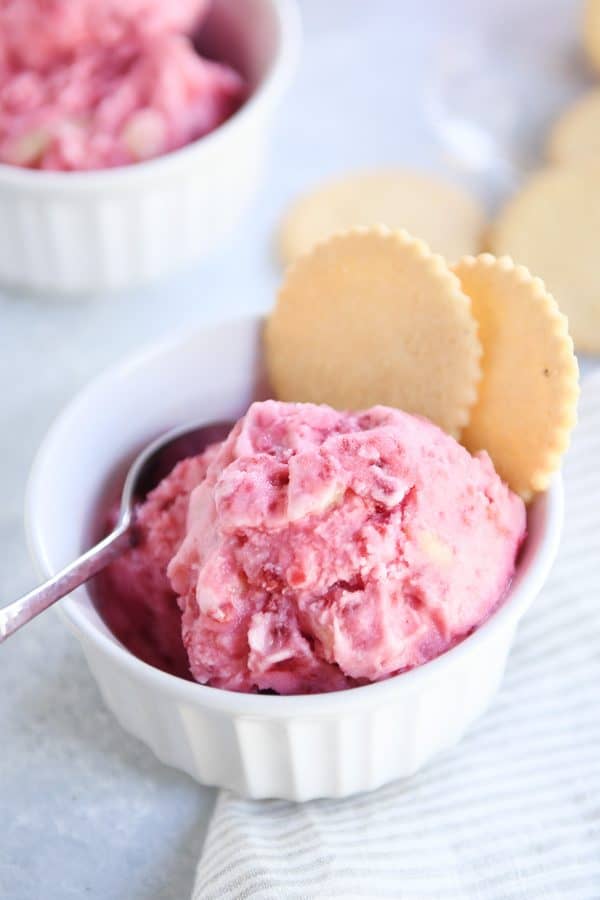 Make it a float
Another way to serve this pink sorbet…