Traditional Sicilian pasta alla Norma is a beautifully simple 20-minute pasta dish that features crispy eggplant, rich tomato sauce and salty aged ricotta.
If you haven't made pasta alla Norma before, you're missing out.
Al dente pasta meets rich and creamy tomato sauce golden crisp aubergine chunks and shavings of delicious ricotta salata  (salted ricotta) all come together for one of the best pasta meals you can make.
I grew up in Sicily, and pasta alla norma is one of our most traditional recipes. I'm particularly fond of this simple pasta dish, as it reminds me of my beautiful island. In fact, I love this dish so much it's even in the cover of my new cookbook  "20-Minute Italian"!
The beauty of this dish is that it calls for a few simple inexpensive ingredients, it's a super easy and satisfying vegetarian pasta dish.
Plus, it's ready in no time and perfect for busy weekdays or to please a large and hungry crowd.
The story behind Norma
Pasta alla Norma was born in Catania , soon becoming, thanks to its success, a popular dish across Sicily. But why was it named "alla norma"?
According to legend, at some point, someone who fell in love with the goodness of the dish, had exclaimed: "Chista è 'na vera Norma!", which would translate to "This is a real Norma!" (intended as a real masterpiece). The reference is to the "Norma", the famous work of the composer Vincenzo Bellini. Basically, this pasta was SO good, that it deserved to be named after the famous opera by the Sicilian compositor.
Ingredients
This delicious Italian pasta recipe comes together in just 20 minutes and all you need is only 7 simple ingredients:
pasta (spaghetti, rigatoni, penne, or fresh pasta)
tomatoes (fresh or canned)
aubergine
extra-virgin olive oil
fresh basil
garlic
ricotta salata
Ricotta salata is a typical Sicilian cheese, and it's slightly different fresh ricotta.
It follows the same steps but is usually made from sheep's milk whey, then it's salted and aged for several months. Outside of Sicily it's usually available in Italian delis or online. However, if you have troubles finding it, feel free to substitute it with pecorino cheese or classic Parmigiano Reggiano.
When tomatoes are in season, I usually go for classic San Marzano tomatoes, but you can definitely use Piccadilly, datterini or sweet cherry tomatoes.
Otherwise, high-quality canned plum tomatoes (San Marzano are always my fav option) are equally good and available all-year-long.
When I'm in Sicily, I always use Italian aubergine, which has dark skin, pearl shape, and a sweet and meaty flavour.
However, many other varieties (such as white, graffiti or globe aubergine) will work just as well. Here's a helpful aubergine guide to help you pick the right one. 
Ready in just 20 minutes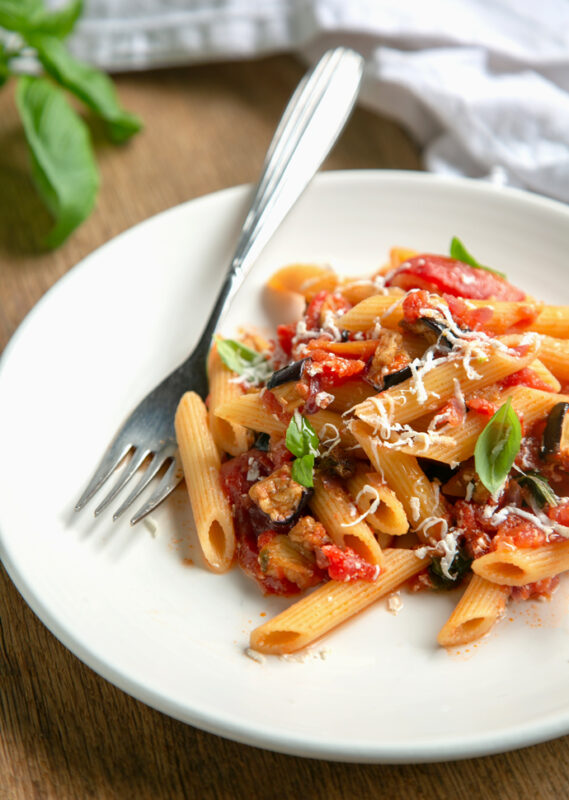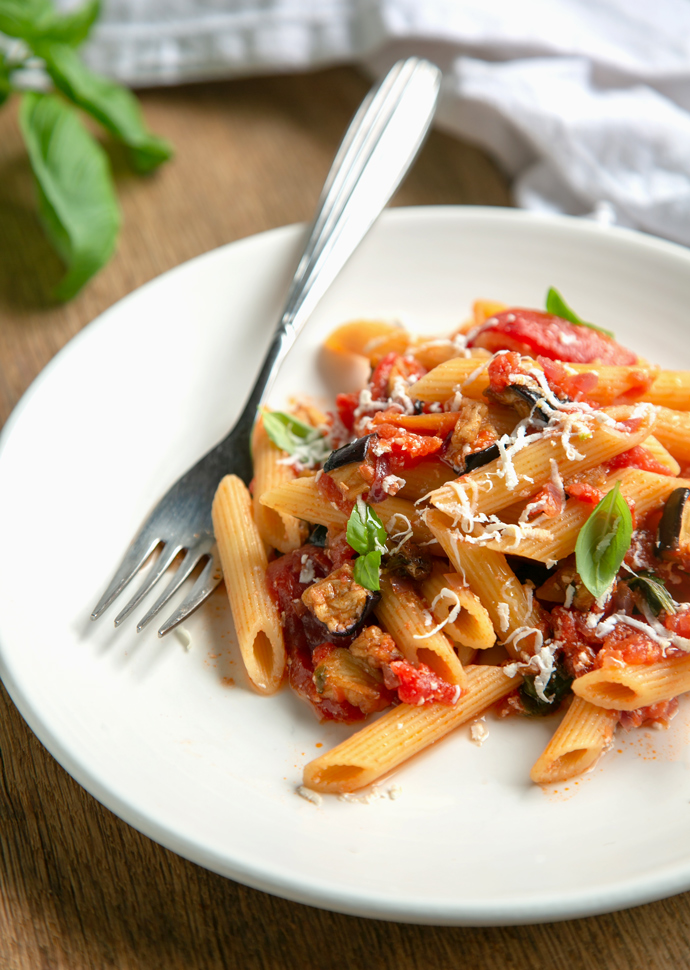 This is one of those easy-to-follow Sicilian recipes that deliver big on satisfaction and don't require much effort.
Let's start by prepping the aubergine. Cut each aubergine into thick slices, then cut into 2 cm cubes.
Cooking tip: although not necessary, if you have a bit of extra time, place the aubergine cubes in a colander and sprinkle them with a little salt, cover with a plate then put a weight on top. Let it rest for 20-30 minutes. This process will make them sweat off their water (and a bit of their bitterness) so that you don't end up soggy when baked or fried.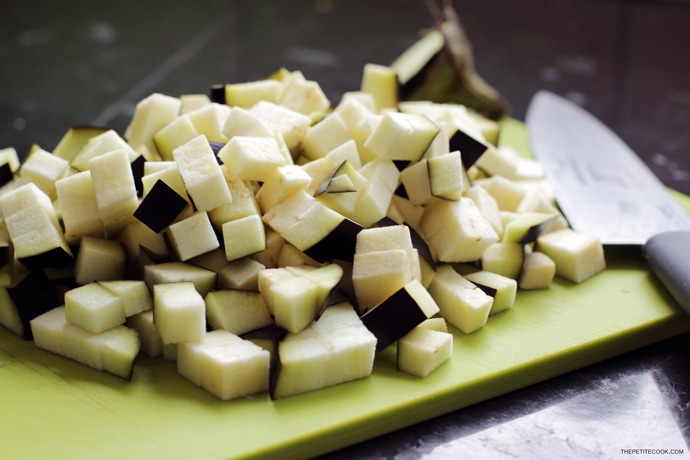 Heat a large skillet with oil over medium heat, add the eggplant, and cook until crispy and golden brown, then drain on kitchen paper.
In the meantime, prepare a classic Italian tomato sauce. 
Slice the tomatoes into half and remove their seeds, this is optional, but the seeds are bitter so I usually remove them.
Heat a large pan with 1 tablespoon (15 ml) of extra-virgin olive oil and the garlic over medium heat. Fold in the tomatoes and stir-fry them for 5 minutes. Stir in ½ cup (120 ml) of warm water, 2 basil leaves and a pinch of sugar, cover with a lid and cook for 10-15 minutes. Discard the garlic and season the sauce with sea salt and black pepper…