These Strawberry-Lemon Gluten-free Baked Doughnuts are the perfect treat to satisfy your dessert cravings without feeling guilty. Ready in less than 30 minutes and made with simple ingredients!
Springtime is a perfect excuse to ditch the chocolate and eat more fruit desserts.
And these strawberry-lemon gluten-free baked doughnuts are the perfect treat to satisfy your dessert cravings.
I cannot think of a better combination than strawberry and lemon. Refreshing, aromatic, and slightly tart, these two ingredients just go so well together! And add a pop of colour to pretty much any dessert – which is always a bonus!
I know traditional doughnuts are deep-fried, but they're just as delicious baked in the oven. Plus, it means less clean-up, and a lighter treat to enjoy without feeling guilty.
** This post is sponsored by Tala. All opinions are my own as usual**

Give these baked doughnuts a try, and you will be hooked!
They're soft, fluffy and so delicious, and can be whipped up in no time with ingredients you probably have in your pantry.
How Do You Make Baked Doughnuts?
 
I promise these gluten-free baked doughnuts are incredibly easy to make. All you need is basic ingredients and they're ready in less than 30 minutes.
Start by adding all the dry ingredients (minus the sugar) into a bowl, give it a nice stir and set it aside.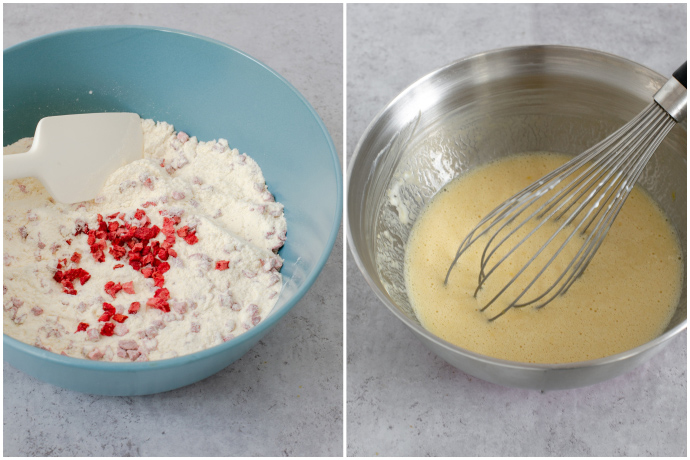 In another bowl, mix the sugar with the lemon zest, then whisk in one egg at the time. Finally, incorporate the olive oil, vanilla extract, and the yogurt and whisk all the ingredients together.
Gently fold the dry ingredients into the wet ones and whisk until just combined.
Now that your doughnut batter is ready, get your doughnut pan out.
I used the 12-cup Mini Doughnut Tin from Tala, one of the oldest and most loved British kitchenware brands, and I absolutely love it!
This fantastic doughnut tin is made with a super durable non-stick coating, which means you don't need to coat it with oil or butter before adding your doughnut batter. So, no extra fat or time required – YAY!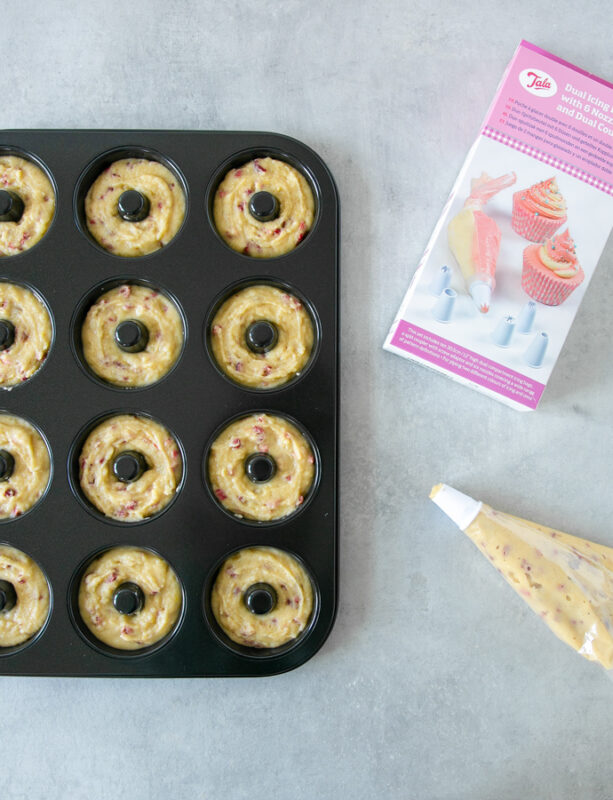 I also used Tala dual piping bag, which is super handy. You can use it as a regular piping bag (like I did here), or with the dual bag and split nozzle, for icing cakes and cupcakes with two different mixtures.
Back to these delicious gluten-free baked doughnuts.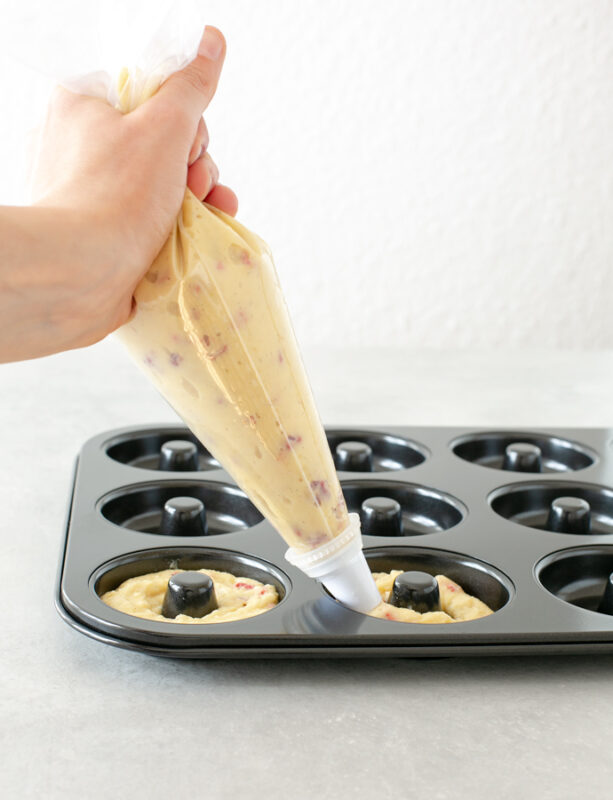 Fill the piping bag with the doughnut batter. Fill the doughnut pan evenly, piping the batter until reaching 2/3 of each mould. I went around each ring twice, using a large round…