The famous recipe for vegan cinnamon rolls that can absolutely hold their own against any non-vegan version. People are always asking me for the recipe!

Easy Vegan Cinnamon Rolls
Soft, fluffy, unbelievably gooey and delicious…
Trust me, you will not regret making these… even if you aren't vegan!
They are the perfect recipe to make any time you have guests staying over, or for potlucks, brunches, birthdays, or simply for Sunday breakfast.
I've served them so many times over the years to both vegans and non-vegans, and people always go crazy for them! Plus, they make your entire home smell like IKEA.
As long as you're good with that (who wouldn't be good with that?????!!), let's proceed!
You May Also Like: Overnight Oats – 15 NEW Flavors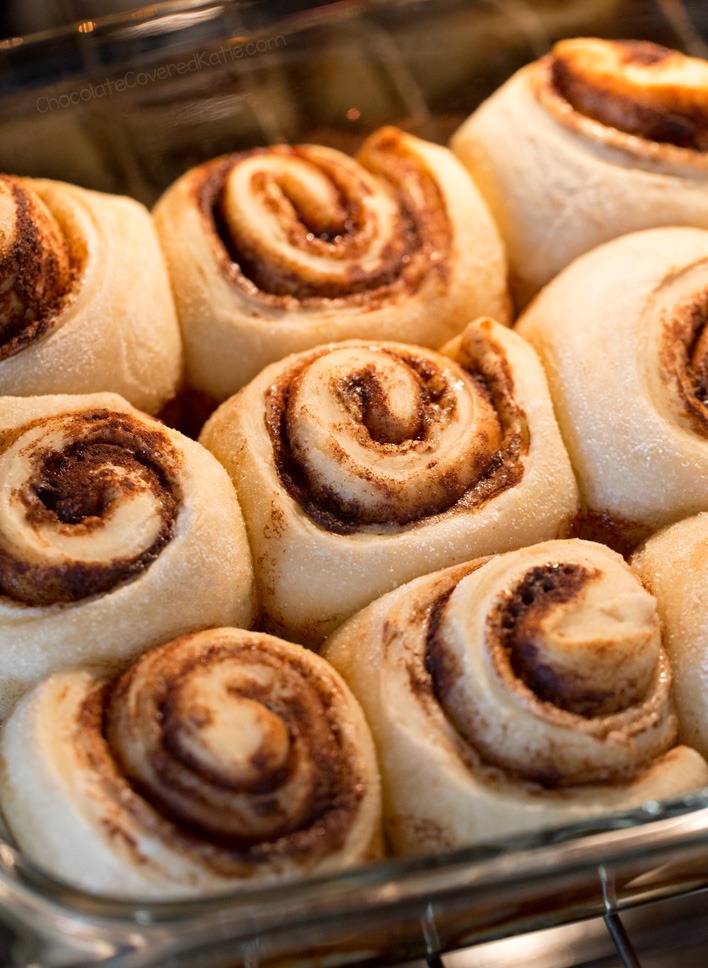 But Do They Taste "Vegan"?
You can definitely serve these to a crowd without worrying. They're made with traditional ingredients just like regular cinnamon buns, nothing crazy.
(I see you, Cauliflower Chocolate Cake.)
In fact, many big brands of cinnamon rolls are accidentally vegan already, including Annie's, Immaculate Baking, and Trader Joes (both their regular and pumpkin rolls are actually vegan!).
Even Pillsbury and Kroger cinnamon rolls don't contain eggs. The Pillsbury cinnamon rolls are not vegan because they do contain milk products, but their original crescent rolls are vegan and could easily be turned into cinnamon rolls. However, with both hydrogenated oils and food dyes, they're not exactly healthy. So I still think it's better to make your own from scratch. Homemade baked goods taste better anyway!
No Butter, No Eggs, No Corn Syrup
The recipe can also be made without vegan butter or coconut oil. Low carb recipes are great and all (seriously, this Keto Cheesecake is amazing), but there's just something about a hot-from-the-oven soft and fluffy homemade cinnamon roll, covered in cream cheese frosting, in all its carb-filled glory.
Don't worry, these are still much healthier than Cinnabon and yet completely satisfy even the most fervent cinnamon roll cravings!
There's also no need for a stand mixer or bread machine. While most of my recipes do include gluten free options, I haven't yet tried these rolls with a gluten free flour such as oat flour, almond flour, or gluten free all purpose (gluten feeds yeast). I would love to know if anyone experiments, and I'm also working on a cinnamon roll recipe without yeast, so hopefully that one will be ready to publish…