These healthy protein-packed Veggie Omelet Muffins can be easily made in advance and are naturally gluten-free and vegetarian – The perfect healthy bite-sized breakfast on the go for busy mornings!
---
Late breakfast on weekends is one of the things I love the most, and in our family pretty much always involves eggs.
Whether it is simply poached eggs on avocado toast, all kinds of Italian frittata or classic French omelettes, fresh local eggs are the star of our breakfast time.
Lately, I've been quite obsessed with these easy protein-packed veggie omelet muffins.
**This post is sponsored by a2 Milk™. All opinions are my own as usual**
Naturally gluten-free and vegetarian, these are totally customizable to meet your taste. I personally like to keep them pretty simple and packed with veggies.
I love making a big batch on Sunday morning and serve them piping hot from the oven. They're just as tasty at room temperature, making them perfect picnics/lunchbox material.
They're also easily freezable, so you can enjoy these savoury bites all week long.
All you have to do is pop them in the microwave for a couple of minutes to have a delicious breakfast ready to go.
How To Make These Veggie Omelet Muffins
These easy Veggie Omelet Muffins come together in less than 30 minutes and can be easily made ahead. All you need 1 bowl, 5 minutes of prep and a bunch of fresh simple ingredients such as eggs, milk and veggies.
All you have to do is beat the eggs, fold in milk, seasoning and chopped veggies and divide the mixture into the cups of a large muffin tin.
Pop your omelet muffins in the oven for about 15 minutes, and you're pretty much done!
I used fresh courgette (zucchini), mixed bell peppers and shallots (white/red onion works just a great).
But feel absolutely free to use your favourite veggies or whatever you've got in the fridge. I'll leave a few other ingredients combo below!
Make sure you don't skip the milk, as it gives a nice airy texture and makes these omelet muffins spongy and lighter.
As you may know already, I've been dairy intolerant for years, so to make my omelet muffins I use a2 Milk™. If you're not familiar with a2 Milk™, it's an award-winning brand that produces milk naturally free from the A1 protein.
Plus, it tastes absolutely delicious like fresh natural milk is supposed to!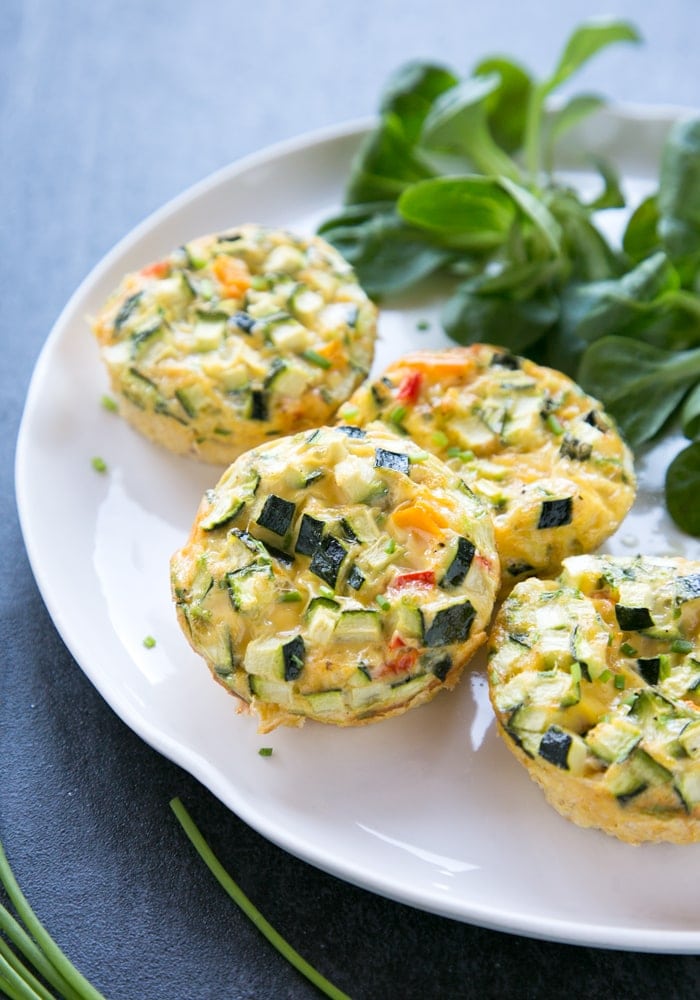 Now, back to this awesome egg-celent snack for a moment- What's not to love?
Packed with protein and veggies, these hearty Veggie Omelet Muffins…